- - Z4 Roadster (E85)
wing mirror problem
(
http://www.bimmerfest.com/forums/showthread.php?t=668204
)
| | |
| --- | --- |
| edm6214 | 01-05-2013 04:37 PM |
---
wing mirror problem

Hi guys,

Here's an odd one. Yesterday as I pulled out of my garage one of the wing mirrors fell off. Not the whole assembly, just the mirror glass. It was undamaged when I picked it up, so I assume that I can just glue it back, But my question is "what glue to use"? I asked at the local dealer, but they were baffled "...it comes a complete unit, we don't glue anything".

Given that the mirrors are permanently heated when the car is running, the glue has to be able to withstand I guess 80degF to 90degF or thereabouts. Any suggestions? Will good old superglue do the trick?

As an aside, I've always wondered why the mirrors are permanently heated when the car is running - any ideas?

Thanks
D
| | |
| --- | --- |
| vintage42 | 01-05-2013 04:50 PM |
---
Quote:
---
Originally Posted by edm6214 (Post 7292535)
... I've always wondered why the mirrors are permanently heated when the car is running - any ideas?...
---
Mirror defrosting draws too little current and it's expensive to add a switch.
My 2008 Forester LLBean has one switch for heated wiper perches in the windshield, and heated mirrors. The heating elements in the windshield are huge to melt solid ice, and draw a big current when on. They are worth switching off as they are not needed 99.99% of the time.
But heated mirrors just do light duty defrosting, do not do de-icing, don't draw much current, and are not worth switching in the Z3.
| | |
| --- | --- |
| brock5ga | 01-05-2013 07:01 PM |
---
I would probably clean with alcohol and use a thin layer of 2 part epoxy.
| | |
| --- | --- |
| SC2003Z4 | 01-07-2013 09:55 AM |
---
I bought the Burco inserts from eBay and replaced leaking dimming mirrors almost a year ago. They come with these "redi stick patches" (very thin double sided mirror tape, good for heated mirrors too). Give them a call and see if they'd sell you just the adhesive patches. 1-888-253-2593
Another option would be to silicone the mirror onto the plastic backing that the mirror originally sat on.
My advise, whatever you do, take off that plastic mirror backing and remove any and all adhesive material from it before you try to re-glue. When I did mine I actually used a putty knife to remove mirror from plastick back and then sanded the mirror tape off the plastic back.
To release backing from mirror assembly, turn that round part behind the mirror backing.
http://www.bimmerfest.com/forums/sho...9&postcount=29
| | |
| --- | --- |
| shipkiller | 01-07-2013 05:36 PM |
---
On the Z4:

Mirror heating

Mirror heating is controlled by the door modules. The heating function is active as of terminal 15 (ignition lock position 2). The activation time is dependent on the outside temperature.
The general module receives the outside temperature from the IKE via the K-bus and determines a cycle time for heating operation. This time is transferred to the peripheral modules where it is carried out. Heating is no longer active at an outside temperature greater than 25 o C and it is switched on permanently at a temperature lower than -10 o C.




.
| | |
| --- | --- |
| Ron Stygar | 01-07-2013 08:09 PM |
---
Mirror

Someone sent me this knowing I was into it on the E36.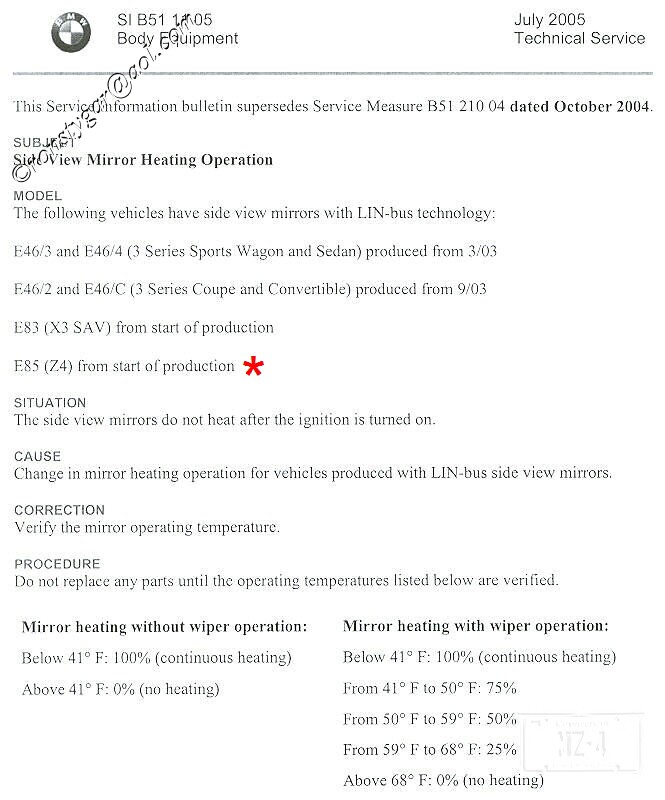 | | |
| --- | --- |
| edm6214 | 01-21-2013 09:10 PM |
---
Guys,
I came across this website and the advice offered made sense. So I bought a tube of silicone RTV adhesive/sealant. I cleaned the heating element and the back of the mirror with lacquer thinners and dotted the heater pad as recommended. When you set the mirror on the pad, try to avoid transferring adhesive to the mirror surface. but if you do, Rainex will take it off tout suite!
http://www.auto-glass.com/carmirror.htm
So far so good. Gotta love a $6 fix!
Shipkiller - it rarely gets above 25degC in Vancouver, which explains why the wing mirror heaters are always on! :-)
Regards
Dave
All times are GMT -7. The time now is

02:56 AM

.
Powered by vBulletin® Version 3.8.7
Copyright ©2000 - 2017, vBulletin Solutions, Inc.
© 2001-2015 performanceIX, Inc. All Rights Reserved .: guidelines .:. privacy .:. terms