09-09-2008, 12:54 AM
Flying monkey herder

Location: Wall St

Join Date: Jul 2002

Posts: 7,955

Mein Auto: Daihatsu Terrios
Quote:
Originally Posted by
JedN
I just ordered part number 36 11 0 308 889 from Tischer. Got an email that states:
Hello and thank you for your purchase. Please allow a few weeks for this part to arrive as it's currently on natinoal backorder here in the US. As soon as it arrives, we'll ship and provide an email confirmation with tracking #. We will also not charge your card until we recieve and ship the part. Thank you! -Ev getBMWparts.com
I'm assuming I didn't screw up and order just the wheel, right? 36 11 0 308 889 is the whole kit (please).

yep, its the whole kit. comes prepackaged in a box with that P/N on it. i do find it amusing that the ETK has a picture of the box the kit comes in....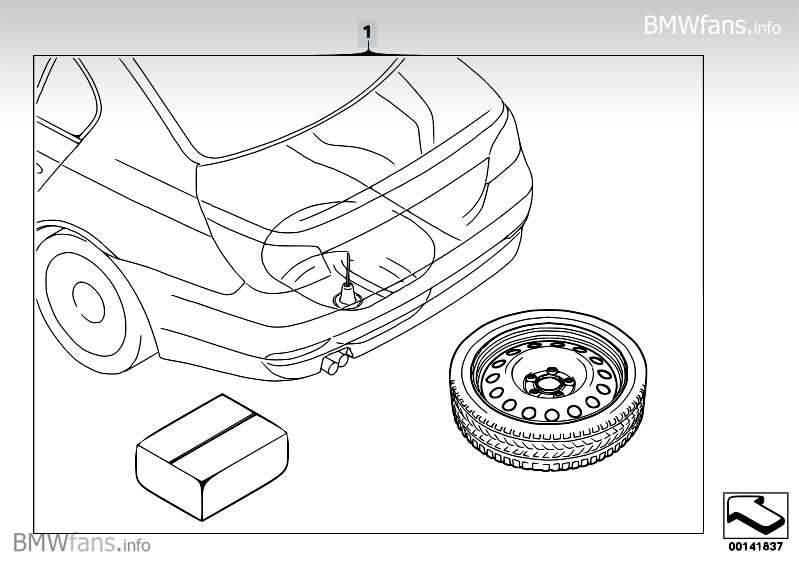 *******>
Description
Supplement
Quantity
Transmission
Catalyst
Date
Weight (kg)
Price
Part number

*******>
********>

01
Set emergency wheel with tyre


Set

1






6,622
170,59 €
36 11 0 308 889
comprises space saver wheel with tyre oddments tray articulated car jack, steel articulated lifting jack crank wedge bracket for spare wheel
********>



when i got mine, there was only 1 kit in the states. i wonder if BMW AG is trying to figure out why there's been a sudden run on spare tires
__________________

---
Last edited by Orient330iNYC; 09-09-2008 at

12:56 AM

.