11-02-2008, 06:47 PM
Officially Welcomed to the 'Fest

Location: Sylvainia

Join Date: Dec 2007

Posts: 2,409

Mein Auto: Z4M Coupe, 540i,Silverado
DIY 540i power steering pump repair
---
I was asked to do a DIY for this repair so I did the best I could...

Here goes...first, let me start this by saying my fan belt was making an unusual noise, that almost sounded like rod knock... So I raised my hood and my fan belt was chewed in a few places...Whew!!! good thing it wasn't rod knock :-).

So after I cut the belt strands from around the center pulley, I bought a new belt...in that I didn't have much experience with BMW belts I put it on and noticed the steering pump was at a weird angle but thought it was spring loaded, so I put the new belt on and when I started the car...it instantly flew off... NOT GOOD!!! But there was no damage, to the belt.

Now I had to dig to find what happened...

I start looking and the pump isn't spring loaded...the bracket is broke...so I call my stealer $514 for a new pump...HUH? $514...JUST FOR THE PUMP... now I dig into it...

In order to do any repair like this or any under the car you first must raise and secure the car...so make sure the car cannot move even an inch...and put it up on good jack stands or lift...I have only jack stands, but I also chock the wheels ...I call it step 2 but really make sure this is taken care of...NEVER NEVER NEVER mess with safety...NEVER!!!!

Let me add that choosing a color for the text was kind of difficult...

[IMG]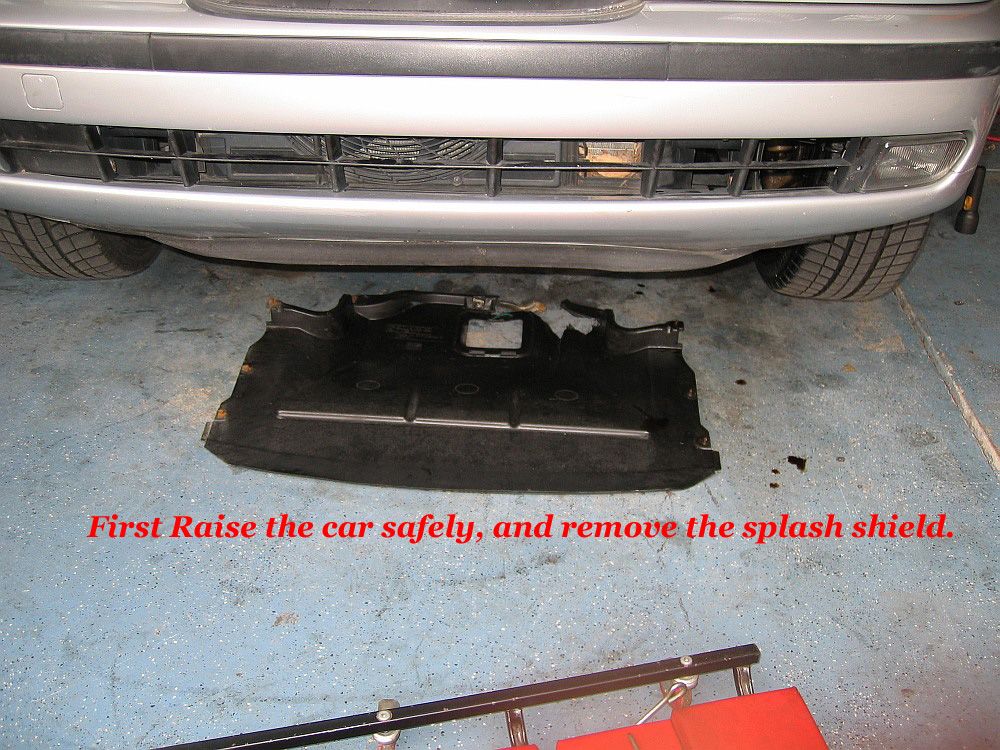 [/IMG]

Here is a picture of the Break, you can only see the bottom mount from this pic, but the top was also broke, that means the rear mount was the only one holding the belt on...
[IMG]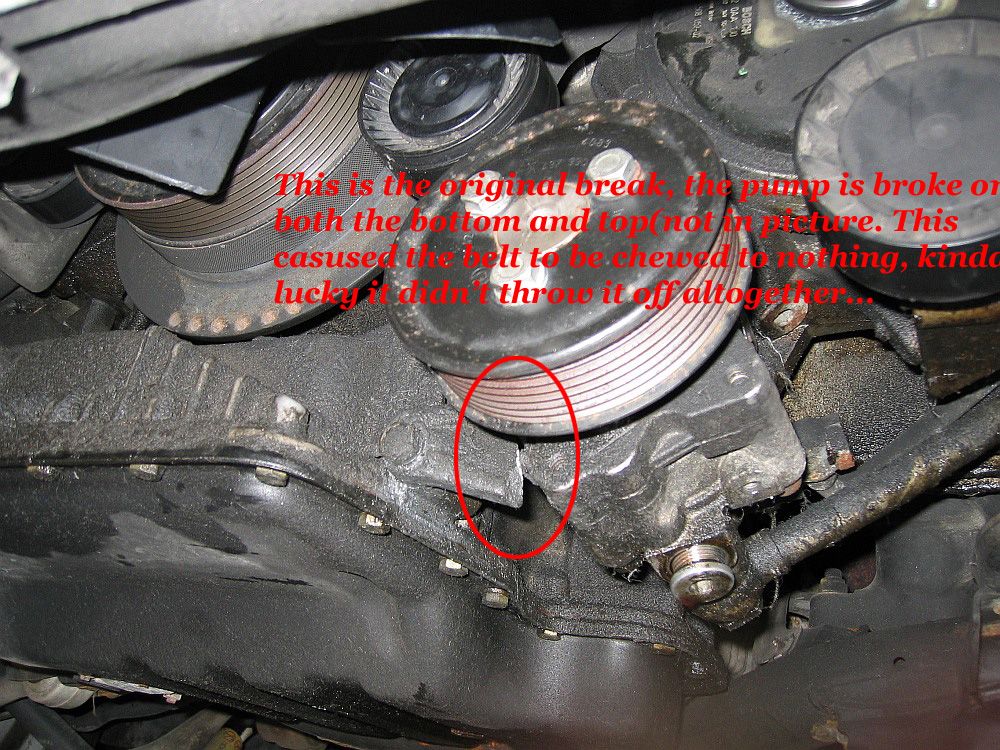 [/IMG]

Here the pump is out and on the board,
[IMG]
[/IMG]

At this point I had to clean it up, so I did the entire pump and BLOCK....this took some time! but it looks like it should go in a BMW at least it is clean enough...Here I am showing one of the breaks ... the other is similar...
[IMG]
[/IMG]

Since it is aluminum and I don't have a TIG welder I took it to my handy dandy neighbor welder...who used to weld rocket engines...Good guy!
Here is what he did for me...$25
[IMG]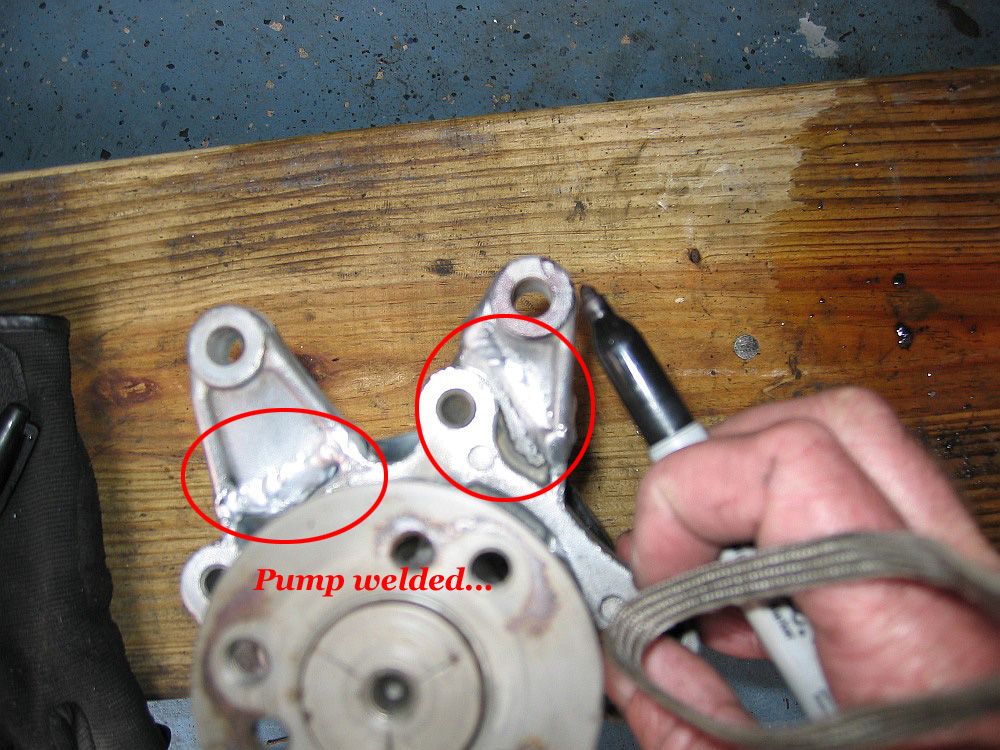 [/IMG]

I noticed that the holes for the bracket were slightly off...and since it mounts to a square surface...it cannot be off even a little or it will apply 'torsion' to the pump and likely break it again...so...
[IMG]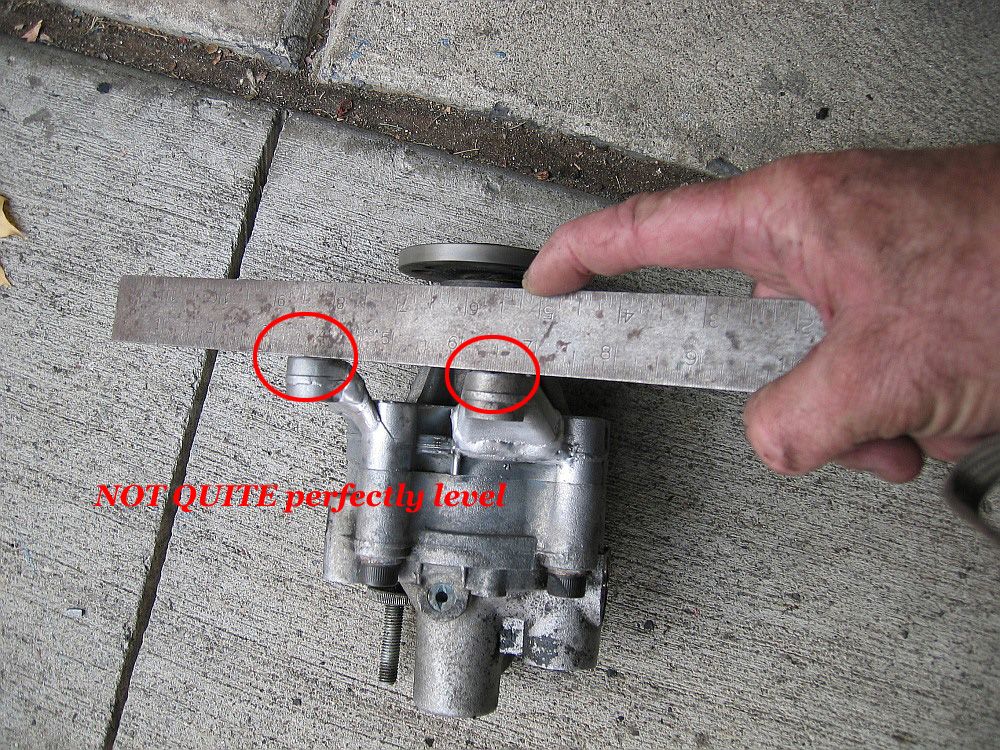 [/IMG]

I inked the mating surface on the pump, and took a shop file to it, the file must be kept level and DO NOT REMOVE TO MUCH MATERIAL...MAKE SURE THE WELDER KNOWS to TRY TO GET THESE SURFACES AS CLOSE TO LEVEL AS POSSIBLE!!! By inking and keeping the file FLAT you will know when the surfaces are level because all the ink will be gone...
[IMG]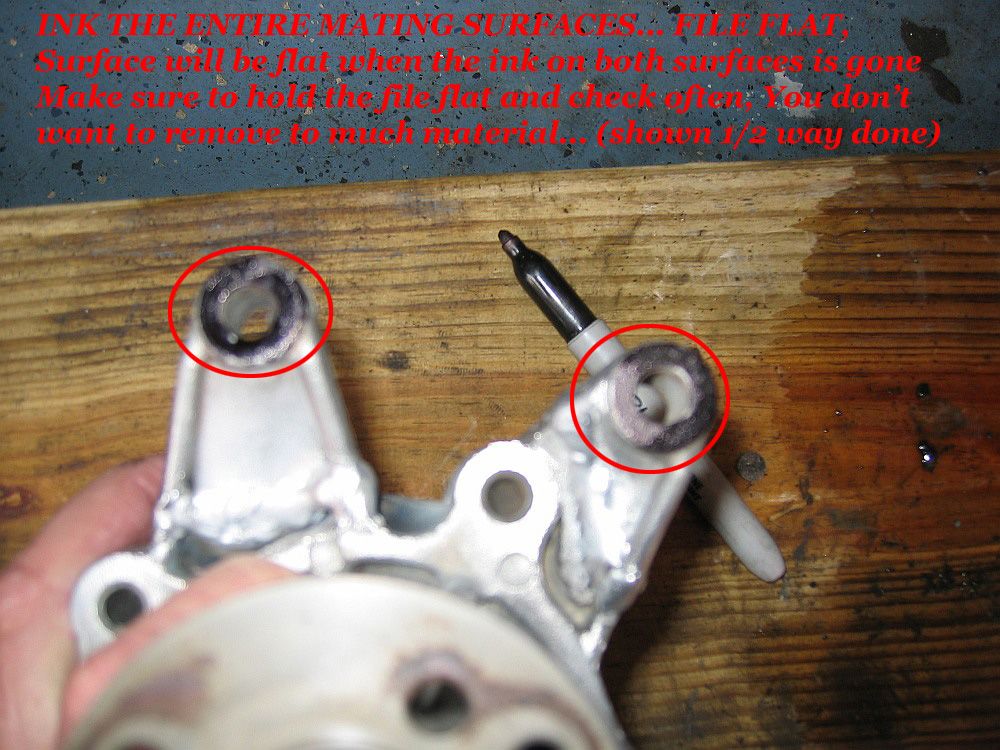 [/IMG]

Once the ink is gone and you rechecked it for flatness...here is a pic of the mating surface
[IMG]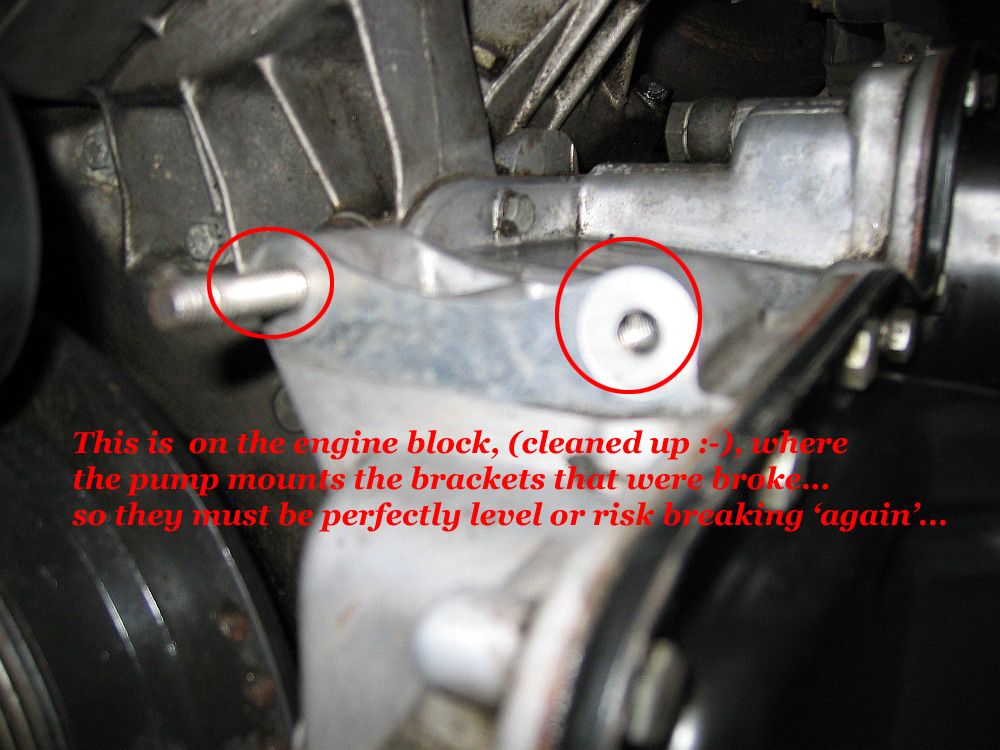 [/IMG]

Go ahead and mount the pump securing a little at a time...don't break it :-)
[IMG]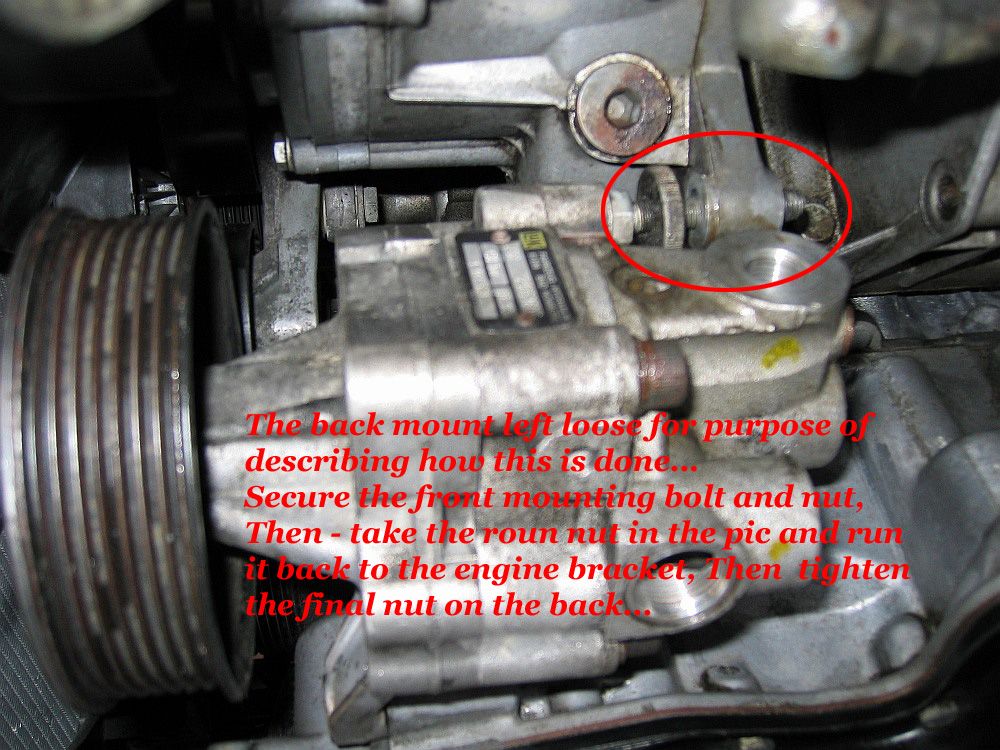 [/IMG]

Here is how I did the mounting...I secured the first 2 front supports, then for the back support I ran the round nut back to the support and installed and tightened the back side nut...so it couldn't vibrate off... Once the pump is secure...go ahead and
Secure the lines...
[IMG]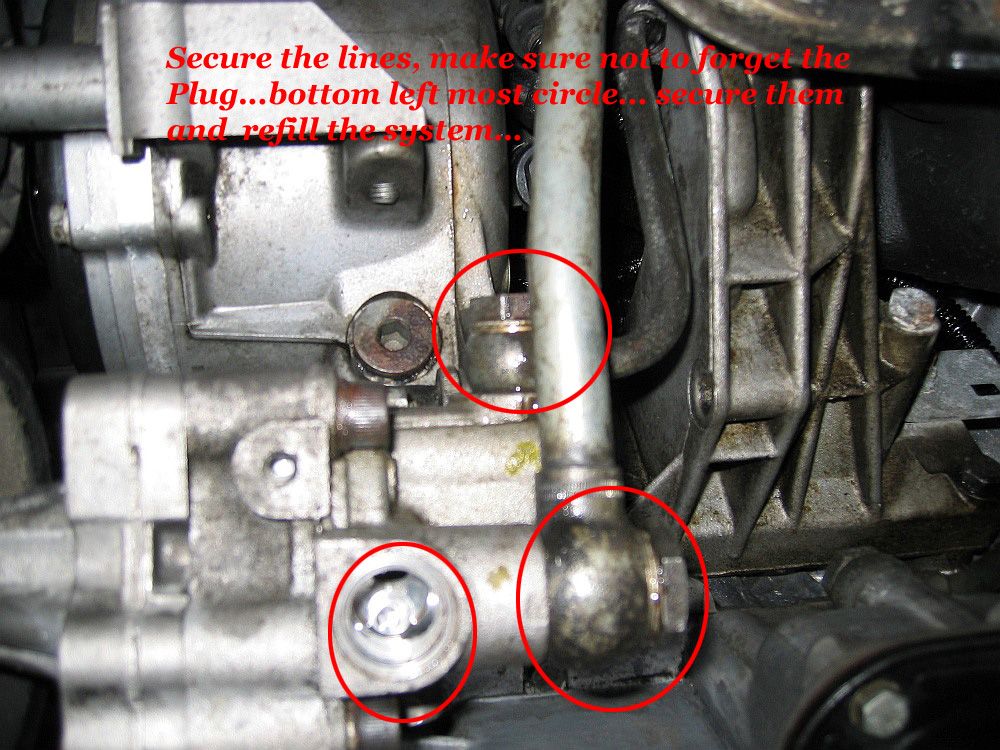 [/IMG]


When the lines are secure follow them up and make sure they don't hit anything rigid, if they do bend em just a 'tad' to keep them from rubbing...

[IMG]
[/IMG]

At this point you are ready for the belt install...so go ahead and install and secure the belt,

[IMG]
[/IMG]

Once the belt is on and tight...go ahead and re-fill the power steering reservoir.. start the engine and take the steering lock to lock (turn the wheel all the way one way then all the way the other) a couple times...

Double check all fasteners...

Reinstall splash apron.. SAFELY lower the car... and test drive, when you get back ...check the power steering fluid again...

I know none of you guys need help with a test drive...


GL
__________________
99 540i-6 Sport & 07 Z4///M Coupe
Pure
Adrenalin!
---
Last edited by GSXRYDER; 11-02-2008 at

07:04 PM

.