Although we've known about the 6-Series Gran Coupe for quite some time now, no one was entirely sure of when it would make its initial debut.
Would it be a late 2012 car or was it to be held out until 2013?
Well, now that we've seen the full internal order form, it's pretty clear that the Gran Coupe will be on its way in short order.
Some things to note: Keep an eye out for the two types of leather, luxury seating package, LED lighting package, and M Sport option. In addition to the M Sport option, there are M-specific colors like Imola Red and Carbon Black.
Hot out of the BimmerFile inbox we have the first confirmation that the 6 Series Gran Coupe (the four door 6 Series) is being readied for production. Above you can see the first internal order sheets for the car. As expected it'll share options with the the coupe and convertible 6 Series that launched in 2011...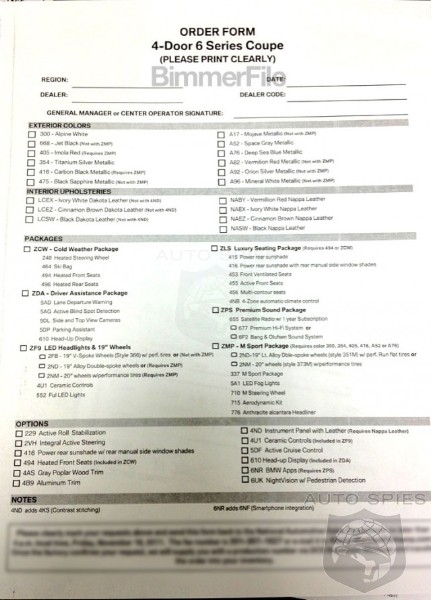 Bimmerfile
Autospies