02-18-2012, 03:11 AM
Officially Welcomed to the 'Fest

Location: SALT LAKE CITY, UT

Join Date: Jan 2012

Posts: 558

Mein Auto: 760 Li
Update & observation
---
I begun the alternator housing removal process earlier on today. Apparently, I have an observation that I believe is worth sharing to everyone else. I have the 760 Model with the N73 Engine. Guess what guys, the alternator housing bracket in my 7 is independent and is NOT attached to the motor mount bracket assembly. By that I mean, contrary to most DIY's that I've read about, i did not have to remove and/or disassemble the left (driver side) motor mount in order to remove the housing. In fact, i did not have to move/ relocate the brake/ suspension fluid container either. Other than the left air intake assembly and fun clutch/ cowl, the only other thing I had to remove in order to make way for the alternator housing was the Power Steering Pump.
The second observation is that the alternator housing for N73 engine's has the oil supply/ oil cooler connection that has an attached thermostat controlled adaptor. The supply cooler line run from the engine through the alternator housing adaptor into the radiator then back into the engine via the return line. At first, I was a little skeptical to mess around with these lines cuz I thought they might be part of the AC refrigerant but they weren't. Anyway, I ended up ordering the two O-ring gaskets for these lines as well.

I'm glad that I got the removal process done but now I have to wait a WHOLE week for the gaskets before I put everything back together.


See pictures below.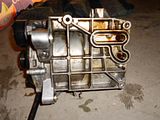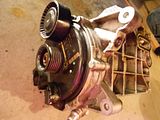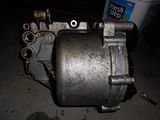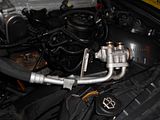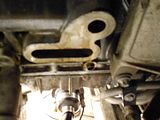 __________________

---
Last edited by pkathee; 03-01-2012 at

10:50 PM

.