SLUDGE CITY (Warning: graphic content)
---
I've had this '02 540i Touring for a few years now and use it as a DD. I got it with around 50K miles. And it now has just over 100K on it. It had a coolant leak that needed attention so I took it to my wrench who's also a good friend.

We found it was not only leaking from the radiator (which was just over 2 years old), but also some water pipes running through the valley towards the firewall, so the intake had to come off. This was going to start getting expensive, but I had no idea...

With the intake off, I decided that maybe we should go ahead and do the VCGs as well, since I noticed a little seepage. After the valve covers were wrestled off, this is what we found: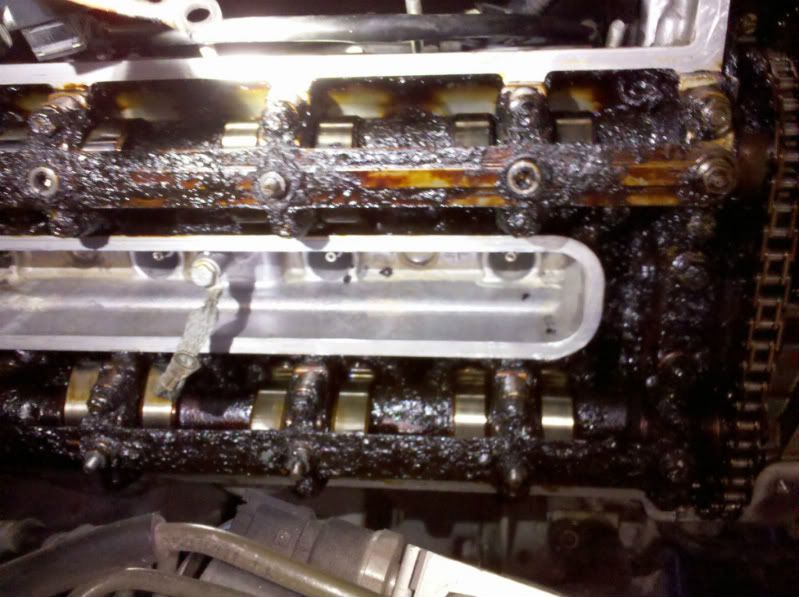 Ummm...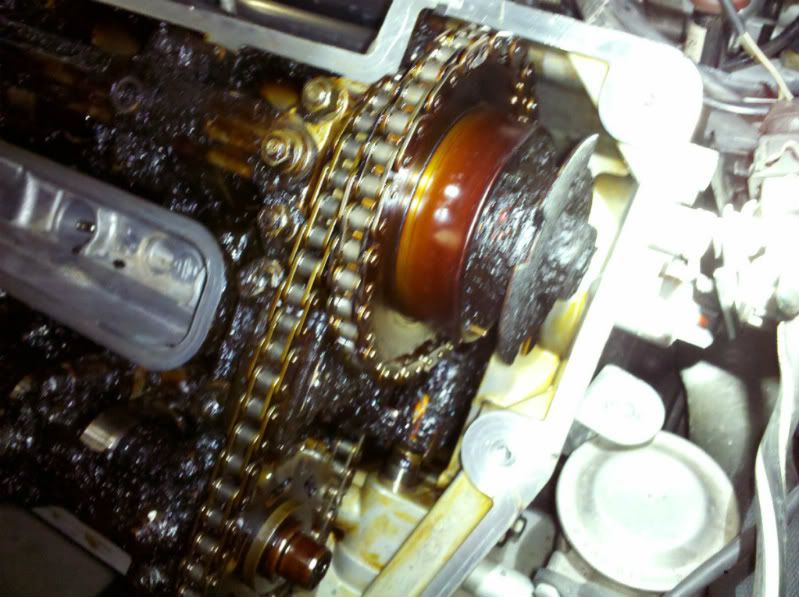 So, okay. I've never seen ANYTHING like that before. Neither had he. I'm just thinking, "do I just put it back together and forget about it and dump the car? Or do I try to get it back on the road and deal?" I voted for the latter.

The closest we can figure is that someone tried to see how long they could go without changing the oil. I decided that we should try to clean what we could and do some "while you're in there" stuff. Here's a few more pics of the carnage:

Bottom: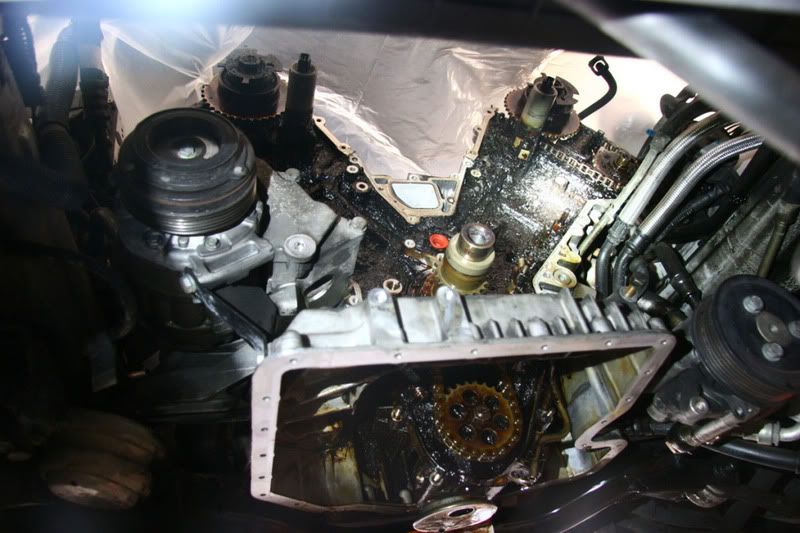 Front left:


Front right: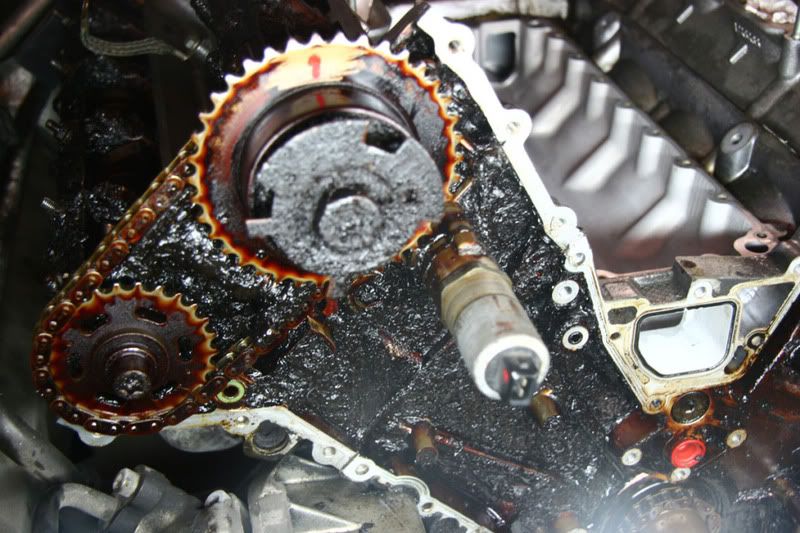 The strategy was to clean as much sludge off of the front of the motor as possible but not touch the valve train. The thought being that if some little piece fell down and got sucked into an oil passage and clogged it up, it would not be a good thing. On the other hand there were only like 3 or 4 places on the front of the motor that I had to be careful not to get anything into. If in the process of cleaning it, something fell down, it just hit the floor. So I armed myself with some Xenit and a few plastic scrapers and a dental pick and went to work. The top layer of sludge was like the consistency of Vaseline, under that it got a little waxy and the stuff that was stuck to the metal was very much like Cosmoline.

After about 6 hours:



After another 6 hours: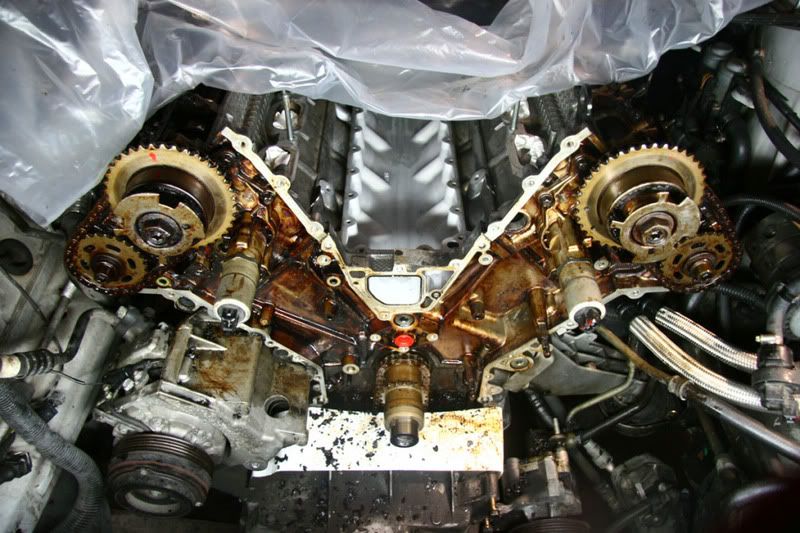 Here's a pic of one of the timing chain guides that we pulled (there's plastic under there somewhere):



After I was "done" cleaning, we decided to remedy the problem of the leaky cooling pipes. Basically there are two pipes that run down the valley from the water pump to an accumulator in the back of the motor. To get to them at the back where mine were leaking (and have before), you have to remove the intake which takes at least a few hours. Lots of labor to replace some o-rings. We decided that welding the pipes to the accumulator itself might work!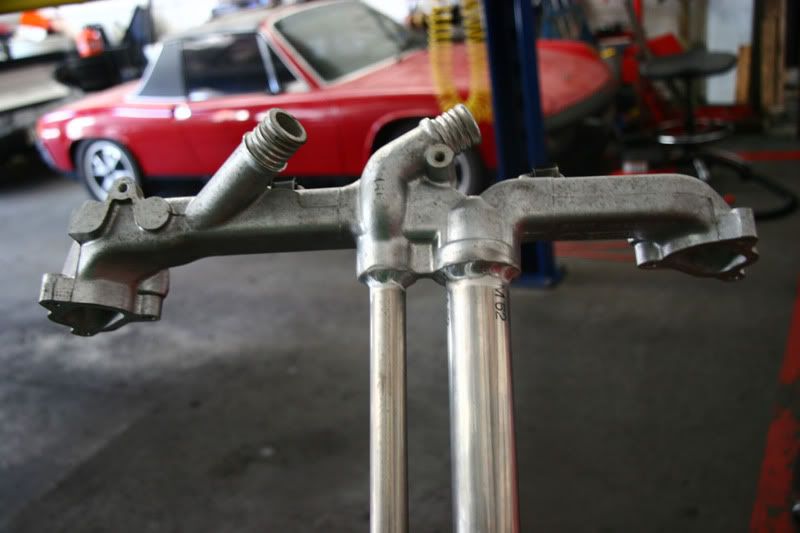 I guess time will tell if this was a good idea or not!

The valve covers are Magnesium and are powder coated some weird gold-ish silverfish color from the factory. After a while this powder coat starts flaking off. I never liked the color, so I decided to have them powder coated black instead.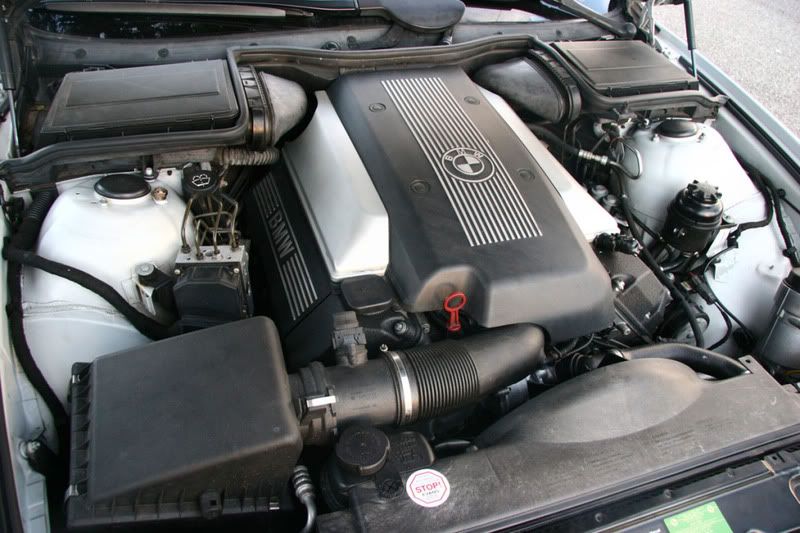 Now the original reason for this shop visit was to replace a leaky radiator (plastic with plastic expansion tank). The system runs HOT, I'm guessing so they could eek out a few more MPGs. It also runs at pretty high pressure (2 bar). This I think contributes to the early failure of the whole system. Plastic gets brittle and breaks from the pressure.

I decided to try Evans this time instead of BMW's factory coolant (thanks Chief!). (http://www.evanscooling.com/products...mance-coolant/) So far when the car is up to operating temp I can grab a hose and squeeze it and it's totally pliable. If I open the cap it just lets out a little "pffff." Maybe 3 or 4 lbs of pressure instead of ~30. Much better. Again, we'll see how this all works out.




So in all, after about 12 of my hours and 30 of my wrench's, the front of the motor's clean, it's got a new timing chain, new guides, new tensioner, new motor mounts, all new hoses, new water pump, new tstat, new radiator, new oil separator, modified coolant pipe/accumulator assembly, new VCGs, resealed intake manifold, resealed injectors, crank seal, basically resealed the whole top and front of the motor, finally new headlight adjusters and new rear hatch and glass shocks. Ughhh... Still on the list are new rear subframe mounts and shocks at some point. I just need to recover from this bill! Hopefully I've done enough at this point to secure me a couple more years with the car. Only time will tell.

What did I learn? NEVER buy a used car without FULL RECORDS! I had the records from the PO who had owned the car for a couple of years, always serviced at the dealer. I f course also had a PPI done, but nothing would have shown the extent of the mess we found inside the motor. When I first got the car I noticed a little balls of oil inside the fins of the oil filter. I did a few low-interval oil changes that seemed to clear it up pretty much. I just thought maybe the car had a little gunk, but nothing this bad. I couldn't see the damage from just looking inside the fill hole. So yeah, FULL RECORDS next time.
__________________
Mike
'02 Titanium Silver 540iT Sport
- Birch Anthracite trim, retrofitted window shades, DJ Auto Euro clear corner lenses, BSW t110 subwoofer, Dice Silverline w/DSP, lowering links. Lots of upgrades waiting in the garage for time to install
'96 Polar Silver Porsche Carrera
- MY02 5 spokes, Bilstein PSS9s, Euro TT Sways, KLA Strut bar, Big Red TT Brakes, RS Motor Mounts, RS Shift kit, Recaro A8s, FVD 360mm wheel, HIDs, Big Oval tips.