03-24-2012, 03:25 PM
Calvinball Professional

Location: In the Transmogrifier

Join Date: Sep 2006

Posts: 1,104

Mein Auto: '07 M Roadster
Photos: Duralast Platinum H6-AGM Battery into Z4M
---
As set up in this thread, I didn't want to pay $275 - $295 for an OEM battery. So after a quick trip to AutoZone, I returned with a Duralast Platinum H6-AGM and got started:

One of the hardest parts was getting my hand in there to loosen the Velcro straps. Thankfully those little knobs on each side raise the tray the top folds into. Marginally.



BMW Strip-o-matic fasteners hold the bottom and three massively torqued 10mm nuts hold the top. This is the worlds most securely fastened flimsy battery cover.



Opening the wrong door on the positive terminal. Shut that now and never touch it again.



The correct positive terminal door. Thanks Ron! This level of visibility is impossible when changing the battery in a roadster.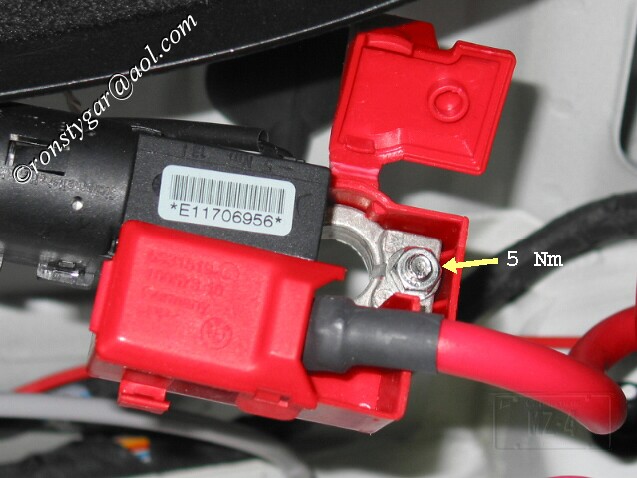 Duralast Platinum H6-AGM left, BMW 61 21 7 553 951 right. Twins except for the stickers.



Duralast Platinum H6-AGM left, BMW 61 21 7 553 951 right. Note that the BMW battery has one of the venting holes plugged. You'll need to remove this and transfer it over to the Duralast. These batteries have vent holes on each side.



The vent plug.



Vent plug installed with vent plug installation tool.



Slightly different specs.



And now to hook up the negative terminal so we can test start it. Note the impressively tall screw for the battery bracket.



Started up like a champ. Reassembly commemorated with one last terribly fuzzy iPhone photo. Now to reprogram the Nav for clock/date and reprogram the auto-up on the windows. It somehow remembered my radio stations.



One extremely happy, unexpected change is that somehow my DICE came back to life with the new battery. I thought I had fried it with my CTEK during a reconditioning cycle, but it works once again, quirky DICE functionality and all.

Also the remote unlock and roof opening range has increased from about three feet to at least 25. I have not tested to determine its max range.
__________________
2007 Z4 M Roadster
Sepang/Sepang-X/Black, Premium, Nav, BMW Strut Bar, Stubby Antenna, Dice, UUC clutch stop, Star Specs, and the rest joyfully stock.