06-29-2012, 02:48 PM
Past Sponsor

Join Date: Jun 2012

Posts: 86

Mein Auto:
3D Yellow Degreaser - your wheel buddy
---
Here is an excellent wheel and tire cleaner, that is also very economical.

Use less product and still get the results you looking for.

On German vehicles, I personally use 4:1 ratio, but on everything else I use 12:1 ratio as I see a lot of neglected vehiccles. This is definitely the product that will give you that dark and clean tire after you rinse the tire off from all the dirt.
http://www.autopia-store.org/Yellow-...tml?a_aid=8013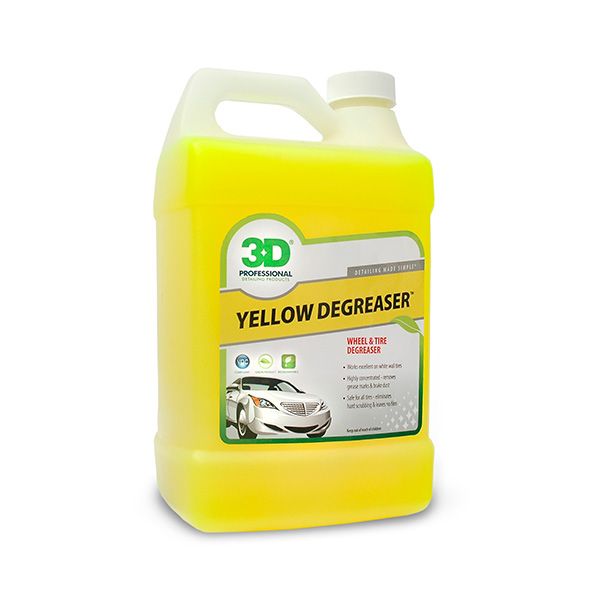 High concentration degreaser
Safe for tires & rims
Emulsifies grease & grime
Eliminates hard scrubbing
Yellow Degreaserô is a highly concentrated degreaser that works excellent on tires, grease marks, and brake dust from tires and wheels. Works fast and effective on white walls. When used as directed, it is safe for all tires, and does not leave any film. Eliminates hard scrubbing.


Yellow degreaser is a strong heavy duty degreaser that is biodegradable. You can safely eliminate break dust and other grime from rocker panels and tires. This is a fast acting degreaser that beaks down all car grease. You can use it do degrease motorbikes, bicycles, and other vehicles.

If you are a car wash owner, consider using this degreaser as it is safe for your employees to use. It is biodegradable and therefore green. It works very fast which will keep your establishment running smoother. You can get to detailing more cars efficiently. Why pay more for a degreaser that is tough on stubborn grime and grease that refuses to come off. This is a super strength degreaser that is great for mobile detailers to use as well.

Keep your vehicle looking clean and remove all unwanted grease from engines and wheels. You can easily dilute this product and use it in conjunction with the OSHA Compliant Yellow Degreaser Pre Labeled bottle.

DIRECTIONS:

For light duty, dilute 1:20 parts water, for medium duty, dilute 1:10 and for heavy duty, dilute 1:4. Avoid contact with hot aluminum, magnesium and alloy wheels. DO NOT USE STRAIGHT.
After diluting in a 3D OSHA Compliant Spray Bottle, spray directly onto the wheel surface and allow 30 seconds to activate, then rinse.

For stubborn dirt, use a 3D Scrub Brush.