08-09-2012, 07:43 PM
Registered User

Location: Blaine, Minnesota USA

Join Date: Aug 2012

Posts: 14

Mein Auto: '93 525iT (e34)
Last BMW I had, there was NO INTERNET!
---
Alright maybe there WAS an internet, but it wasn't anything like it is today. Maybe I would've still had that '78 528? 530? I paid about $1000 for it; a lot of money to me at that time. Never could really get it working right. There was an ignition/spark issue that I couldn't figure out, or afford to have fixed. As I said, there were no BMW forums to take my questions too. Sadly that car ended up in the junkyard (maybe pieces of it live on today) but it left an impression on me that I have had for the last 20 years or so. BMW makes great cars.
I haven't had the money to buy a BMW I wanted until just lately. I still can't afford to go in and buy a new, or even 2-3 y.o. v8 5-series wagon, but I was able to buy a '93 525iT off CL about 2 weeks ago. It may not be pretty, and she may need a lot of work, but I am a lot better`prepared to take on this kind of challenge that I was back in my early 20's.
I was in a hurry to get a replacement, as my free, 13 year-old Accord was becoming to much work, and money to keep going. Mostly work. It had 220,000 miles on it. I was looking for something CHEAP, and assuming it needed work, perhaps major work. None of the 3-series guys would call back or keep appointments. I had my eye on this 5-series that was way more than I was planning on spending. It was the ONLY wagon (3 or 5 series) even close to my price range. Out of desperation and frustration I finally called the guy thinking maybe he was as sick of CL a$$-holes as I was. Checked the car out as good as I could (at 11;00 pm) and took a leap of faith. As I figured, numerous things have popped up since then; it is ok, I knew what I was getting into. I have had a professional mechanic, not a BMW specialist, but a WIZARD check it out. (Big props/ recommendations to John Zmuda at Z-tech in Bloomington MN)

Things to address immediately:

Tires were pretty bad-(RF was inflated higher than my gauge would read!!!) I have already picked up a set of e39 alloys and tires from CL. My original alloys can now be mounted for snow-tires.

Typical e34 front-end shimmy. Wish I had read about this before I bought the car. Oddly, it didn't become noticable until after I had test-driven, and bought it. Also, I think it became noticable after I found the tire was so overly inflated and corrected it. New thrust-rods are on order.

Fix leak on suspension leveling system, or bypass/disable system

replace valve cover gasket/spark plug seals (have new parts)

replace PS pump- I got a replacement from a local bone-yard, but I believe it may be wrong, as it was from a '93 530i, and I believe it has a different suspension system, and PS pump.

as a precaution, I am having the auto-trans fluid, filter, and gaskets replaced

Once those issues are fixed, I would like to address some of the rust, and interior issues. My driver's side is pretty rusty, and the driver's door needs to be replaced. I thought the local junk yard had a matching color one, but it turned out to be a Charcoal 'silver', and I have the lighter silver.

Shortly after I got her: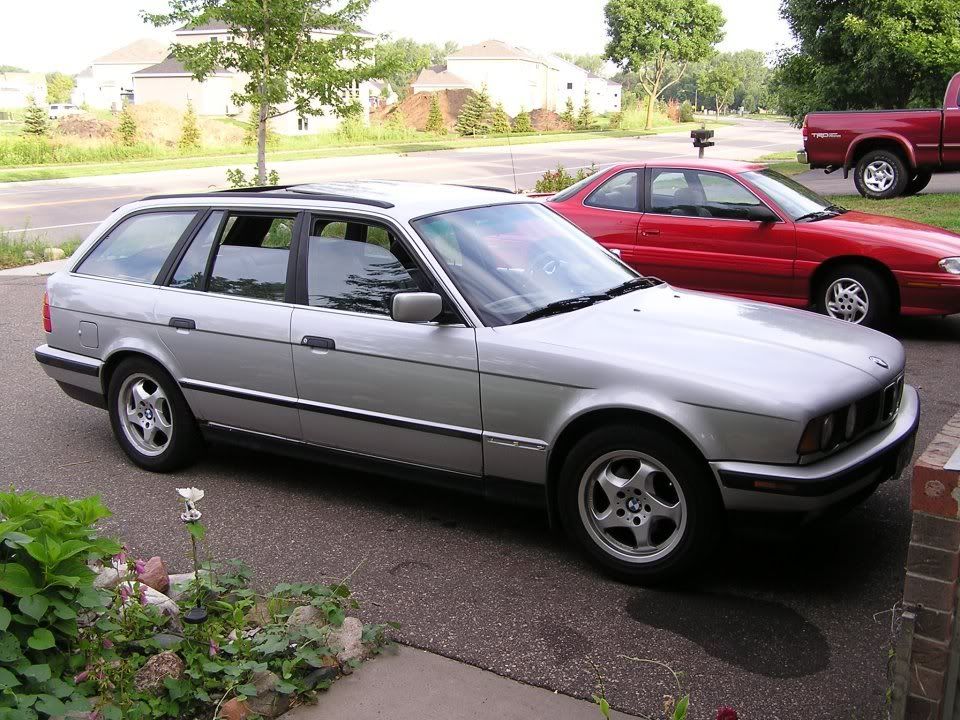 After I got the new rims/tires. I also replaced the one missing piece of fender trim. A lot of the others were off the car when I got it, but that right front was the only one missing.



Sorry if the photos are real big, I am not sure what size they are set at. Oh, a little about me, I am a 43 year old working as a framing carpenter. Mostly new, single family construction for about the last 15 years. I recently lost my best friend, the greatest dog anyone could ever want. He was a Border Collie/German Shepard mix, and he would've just loved going for rides in my new ultimate driving machine. I am also looking at buying an e39 540i once my 525iT repairs are caught up and she's more road-worthy.
---
Last edited by =HPSF=roadrunne; 08-09-2012 at

07:44 PM

. Reason: picture was wrong