09-11-2012, 04:17 AM
Officially Welcomed to the 'Fest

Location: Valley Forge, PA

Join Date: Jul 2011

Posts: 621

Mein Auto: '07 650i
DIY – Spare Key enable / disable in DIS
---
Before I go further, here is the disclaimer. Plugging a PC into your BMW and doing anything has the possibility to disable or brick components of your car. I am in no way responsible for anything you do to your car or any of its control modules. That being said, this DIY uses DIS (Diagnostic Information Station) which is a basic program that is widely used and gives you less opportunity to brick your car than most of the other available software.

When I bought my car it had one Comfort Access (CA) key fob. I talked the (non-BMW) dealer into giving me a second CA key fob, which they ordered from BMW. After they gave it to me I had to go to a BMW dealer to make it work. I think the dealer charged me $100 or so.

Recently I decided to get the spare key replaced as well. The spare key is the black plastic key that can unlock the door manually. It can also start the car once it's inserted into the glove box fob and put in the ignition slot. I purchased my spare key from my local dealer for $50. It came the next day and worked fine in the door, but would not start the car. When I put it in the ignition I got a ghost busters slash over the key. After a ton of reading I decided to make it work myself instead of going back to the dealer for programming.

Almost every thread about key activation describes the process of putting the key in the ignition and pushing buttons to initialize the key or holding the key in the ignition until it locks. It took forever to find a thread about enabling the key in the car's ECU.

First step was to order a cable and software from EBay. I got mine from the UK. The installation of the software took me about 9 hours. I would start a process and come back to start another. The detailed instructions alone were worth the $50 I spent. Finally I had a workstation setup to service a BMW.

Then came the hours of reading at BMWcoding.com & Bimmerforums.com. I finally found a thread that explained key enabling and disabling. Turns out it was very simple and one of the most basic programming functions.

Bottom line is that I needed to use the DIS program and find out what the key's number designation is, and then enable that key number.

Here are the steps:
1. Plug into the car's OBDII and your PC's USB ports. Launch Virtual Machine (VM) / DIS.

[IMG]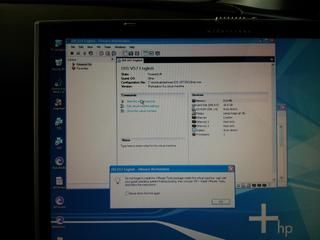 [/IMG]

2. Select your model.

[IMG]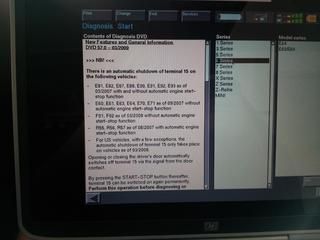 [/IMG]

3. Select yes and let DIS run through its tests. This will take a few minutes.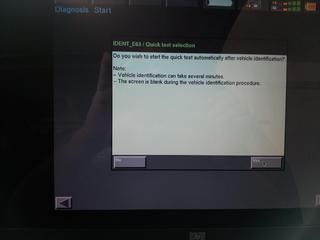 [IMG]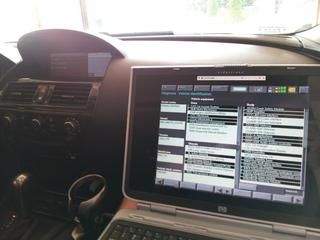 [/IMG]

4. Next go to "function selection" and you'll see this screen.

[IMG]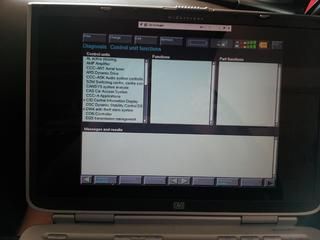 [/IMG]

5. Then hit test schedule to get here.

[IMG]
[/IMG]

6. Select "service function", then "locking and security function", then "enable/disable"

[IMG]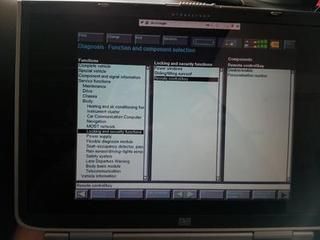 [/IMG]

7. Finally you will get here.

[IMG]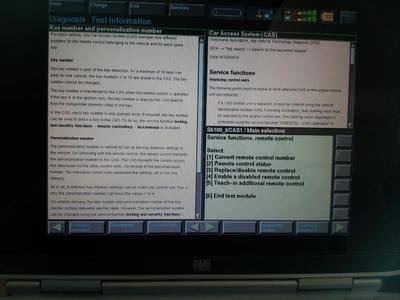 [/IMG]

8. Now you just put each fob into the ignition one at a time to check the number of that key. Then you look at "remote control status". This will tell you what key numbers are currently enabled/disabled. Your car can have up to 10 keys made by BMW and each will have a designation when it comes. Once you have the number of each of your keys, go in and enable any that are not (like the new one you just bought) and disable any that you don't have. This way only the keys you still own can start the car.

Anyone with a key can still unlock the door or trunk, but they cannot start the car.

Hope this helps someone out there. There are other ways/programs to get this done, but this is the one I used and shared. Feel free to add to what I've done.
Bottom line is that I spent $50 for the cable and software that I get to keep for future issues vs. paying the dealer $100 for a 20 minute job.
__________________
'07 650i Coupe - Black Sapphire Metallic
M6 bumpers, skirts & wheels
BMW M Cross Spoke Composite 101 Rims 20"
HUD, Comfort Access
---
Last edited by Mulchman; 09-24-2012 at

03:12 AM

.