11-14-2012, 12:19 PM
The Entertainment Guru

Location: The GYM!

Join Date: Aug 2006

Posts: 7,654

Mein Auto: 750i (F01)
ALISTAIR OVEREEM vs BIGFOOT SILVA: UFC 156!
---
I kinda hate this as I am a fan of Bigfoot but an even bigger fan of The Reem...
That is why this will be somewhat sad to see Alistair crush him. Alistair is PISSED! And this whole suspension and his return to the UFC... He has something to prove. Silva had best be training against the "thunderous knees and strikes" he will inevitably be receiving.
I'm not even gonna order this fight on ppv as I don't want to encourage these lousy match-ups. Same goes for the Jones v Sonnen fight...or more aptly named the Jones v Sonnen beating.

Alistair Overeem will fight Antonio Silva at the UFC



Quote:

Alistair Overeem finally knows when he will return to the cage. The one-time Strikeforce heavyweight champ will fight fellow Strikeforce alumnus Antonio Silva at UFC 156 in February.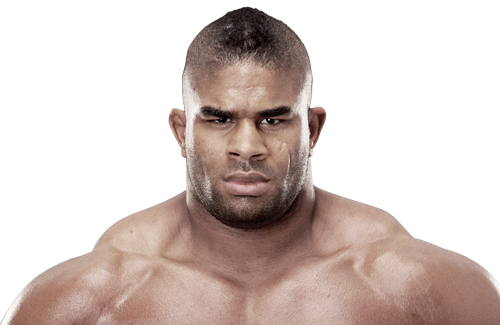 Their bout is part of the UFC 156 card that already has Jose Aldo defending his featherweight belt against Frankie Edgar, Rashad Evans' bout with Antonio Rogerio Nogueira, and Dan Henderson's return to the cage with Lyoto Machida.

This will be Overeem's first fight in more than a year. After beating Brock Lesnar at UFC 141, Overeem was scheduled to fight Junior dos Santos for the heavyweight title in May. However, Overeem was denied a fight license by the state of Nevada after his testosterone levels were found to be out-of-whack. He is serving a suspension that will end Dec. 27.

Though Overeem was hoping to fight dos Santos at UFC 155, the Dec. 29 card cut too close to the end of his suspension. Instead, Cain Velasquez is fighting dos Santos for the title.

Silva most recently fought at UFC on FX 5, where he knocked out Travis Browne. Before that win, he lost to Velasquez and Strikeforce heavyweight grand prix champ Daniel Cormier.

Head to Head comparo: UFC 156: Alistair Overeem vs. Antonio Silva Head-to-Toe Breakdown | Bleacher Report

~ Big Marcus
__________________