01-06-2013, 06:59 PM
335i N3WB

Location: Orlando, FL

Join Date: Jan 2009

Posts: 383

Mein Auto: 11' Audi S4 Prestige
Sad - But leaving the BMW Family for now....
---
Hey guys, well after a great 3+ years with my 07 335i I sadly am parting ways. Running out of CPO warranty, getting higher on miles (60k) needed tires etc. It was time to move on. My first choice was a 08+ m3, but decided it would be better in my financial situation to not purchase one out of warranty(what i can afford). I loved the 335i, and plan to have an m3 for my next car in 2-3 years.

Thank you all for all your help, i will continue to visit and keep up on BMW's as i love the car.

So my last question... What is a good audi forum that is simliar to this as i love the community here...

Guess that gives a hint on what i got... Traded in the 07' 335i and got a 2011 Audi S4 prestige fully loaded. v6 Supercharged AWD(they are no longer v8's, faster lighter more fuel efficient). So far loving the car, only been a few days. (see pics below).

Hope you all enjoy the comparision pictures, although its not an s5(coupe, which is slower and a v8) they are still very simliar in size.

Thanks again guys.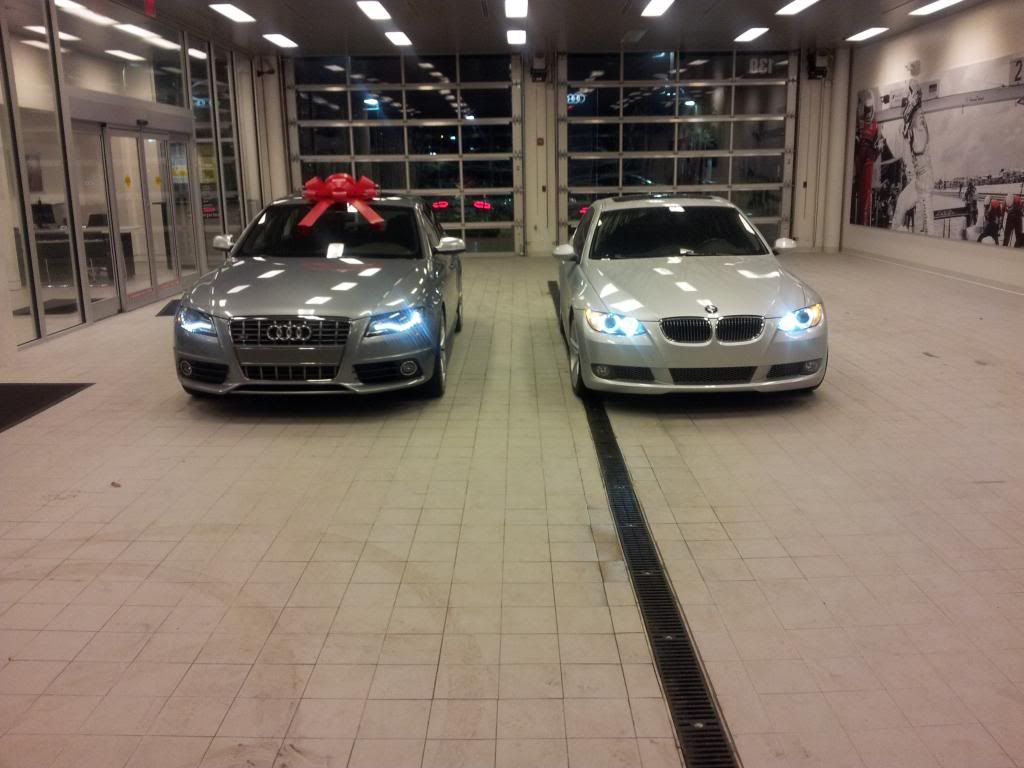 __________________

Currently Drive: 2011 S4 Prestige, Quartz Gray, Black Alcantara, Adv key, B&O, NAV + rear sensors, 19's, Carbon Fiber Trim, iPod...
Previously drove:2007 335i Coupe, Titanium Silver Metallic,Black Leather, Gray Poplar trim, Premium package, Cold weather package, Sports package, i-Drive, Rear sensors, iPod.
Previously drove: 1998 3000GT Vr-4 Red/Black TT AWD AWS
---
Last edited by Mineo335i; 01-06-2013 at

07:13 PM

.