04-27-2013, 09:21 PM
Officially Welcomed to the 'Fest

Location: Fort Worth, TX

Join Date: Jun 2006

Posts: 4,132

Mein Auto: 2016 Z4 35i- Estoril Blue
Quote:
Originally Posted by
skidgllfs
I just bought a 2009 CPO Z4 35i. It came with Style 293 staggered 18" "multi spoke" wheels and Potenza RE050A runflats (225/40, 255/35). Wheels are mint,

tires

are new. I prefer the style 292 "turbine" staggered 17" wheels. Looking to trade these 18's for 292 17's. I am in southern New Hampshire.

I bought a CPO 2009 as well last year with your 17 inch 292's on it. I have wanted to move to the 18 inch wheels. Although I have been looking for some 294's (
) , I would be happy to swap for the 293's. Unfortunately, I am in Texas and you are in New Hampshire.

Any solution short of shipping two sets of tires 2000 miles?
__________________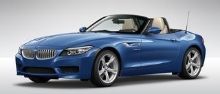 ED July 2016 - Redelivered September 2016
35i Estoril Blue / Beige Kansas Leather, M Sport, Premium Sound
CWP, Technology Package, PDC