10-22-2013, 04:41 PM
Officially Welcomed to the 'Fest

Location: Tallahassee, Florida

Join Date: Sep 2011

Posts: 440

Mein Auto: 2003 Z4 ; 2002 Wrangler;
Re: Blacked Out M6 gets a Vorsteiner Diffuser
---
Quote:
Originally Posted by
eas
If Batman drove a BMW, then there's a good chance it would be this one. Equipped with matte black OEM wheels, gloss black kidney grilles, gloss black fender gills, Sapphire Black reflectors, matte black exhaust tips and even black BMW roundels, this Sapphire Black F13 M6 is the epitome of "blacked out". While all these little modifications add up to create a sleek and dark appearance, this M6 owner wanted more. We had the opportunity to take this car to the next level by installing Vorsteiner's super aggressive rear diffuser. Featuring a 1x1 carbon fiber weave that matches the OEM roof, this piece instantly tied the whole car together and gave it an even sportier, more menacing ...

Too bad batman drives a lambo (and a range rover, some days) and lives in md

http://m.washingtonpost.com/blogs/ro...PjgS_blog.html




sent from my mind. Mentoc the Mindtaker
__________________
I like my 2003 Z4 2.5i... but love my smelly old 2002 Wrangler SE, 2013 Dyna Wide Glide 103 and evil 2007 HD Sportster 883/1200 conv!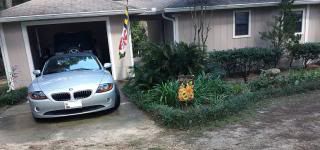 ---
Last edited by Cvaria; 10-22-2013 at

04:43 PM

.