02-05-2017, 07:13 AM
OEM Audio PnP Integration

Location: Florida
Notes on a 2017 M3 with HK system and replacement of MOST OEM amp
---
For those that find the audio quality of the highest audio option in BMWs lacking or just having a damaged/non-functional OEM amp, replacing the OEM amp with higher quality aftermarket amps and DSP has been very difficult or just costly.

The OEM amp in the majority of Top HiFi systems (Logic7, Harman Kardon, Individual Audio, Bang & Olufsen) since MY2002 has been difficult to replace for the simple reason that its inputs are MOST (Media Oriented Systems Transport) digital proprietary. No plain harness, no standard digital to analog converter can decode this proprietary digital signal. So no analog or digital (Toslink optical cable inputs) aftermarket amp/DSP can interface with this MOST protocol.

The "old school" way of integrating an aftermarket amp to the analog/high level outputs of the MOST OEM amp can be performed but the audio quality results of such integration will be less than optimal:

- The OEM amp is designed to change its equalization and bass levels with speed so any tuning made while stationary will be useless -the OEM amp will change its tune at different speeds
- The OEM amp outputs are high level up to 35V peaks in some versions. Very few aftermarket devices can support 35V inputs long term. Some will just burn its input stage in a few weeks.
- In my own particular case, I found the audio in all OEM amps muffled, not crisp like aftermarket, regardless if the OEM amp is HiFi (analog) or MOST. Like the sound pass thru a sock regardless of treble adjustment. Changing the speakers can clear that dullness a bit but to me is never enough. Changing the OEM amp always remove that muffled sound completely. Even with OEM speakers.

So what to do with a MOST OEM amp?

There are two ways of fully integrating an aftermarket amp/DSP by replacing the MOST OEM amp:

Option 1: replace the OEM amp with a MOST converter (analog or Toslink outputs)
Option 2: code the iDrive/OEM HU to output analog (either low- or high level) instead of MOST

Either of these two options will keep all the OEM audio features already present in your BMW (radio, Bluetooth, Assist, USB, AUX, Apple CarPlay, gongs) with very particular exceptions (note below), while greatly improving the audio quality of all sources even with OEM speakers.

This is the second MOST OEM amp replacement that I have done (2008 M3 with Individual Audio was first) but the first applying both methods of integration.

My 2017 M3 is equipped with the HK system and ASD module as standard, and the Apple CarPlay option. HK system is comprised of 16 speakers (7 mids, 7 tweeters, 2 woofers) and a 9ch OEM amp of a total of 600W peak output. Aftermarket equipment to be installed:

- Audison DMI MOST-Toslink Converter
- Alpine PXA-H800 DSP with Toslink inputs
- Arc Audio XDi V2 1100.5 5ch amp
- Arc Audio XDi V2 600.4 4ch amp
- JL Audio 10w6v3 10" sub with a MusicarNW F30/80 custom sub enclosure

All speakers kept OEM.

Install of aftermarket amplifiers:

- Removal of OEM amp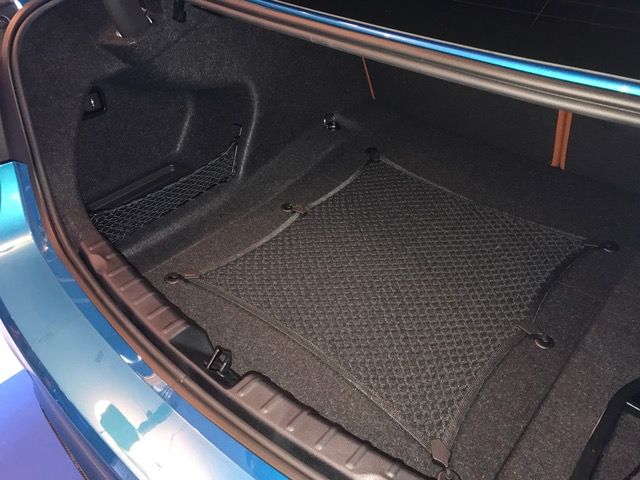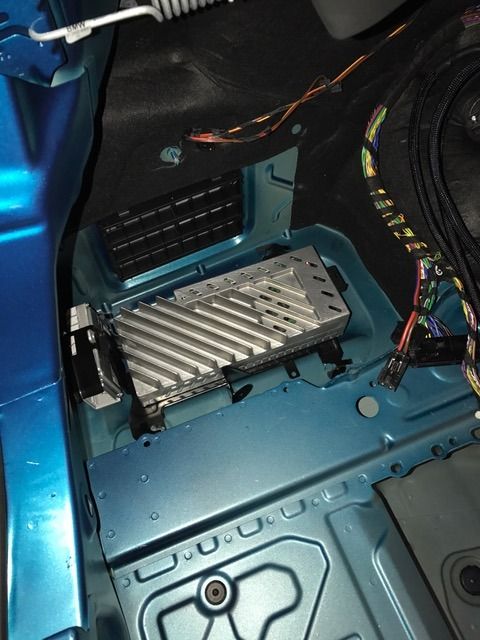 - Unplug three connections from OEM amp: 20-pin female, 12V/ground, MOST fiber optics connectors:



- ASD module 42-pin connector to be unplugged: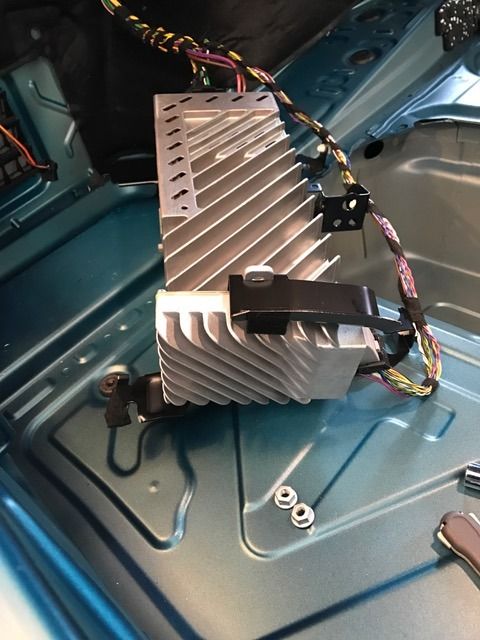 - Arc Audio "Power Pack" custom rack with PnP connectors for speaker inputs (RCA) and outputs (20-pin male connector), and power/ground (Anderson SB120 connector kits)
-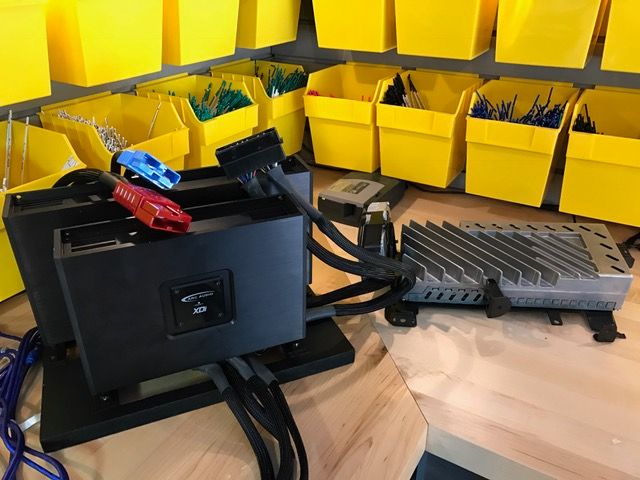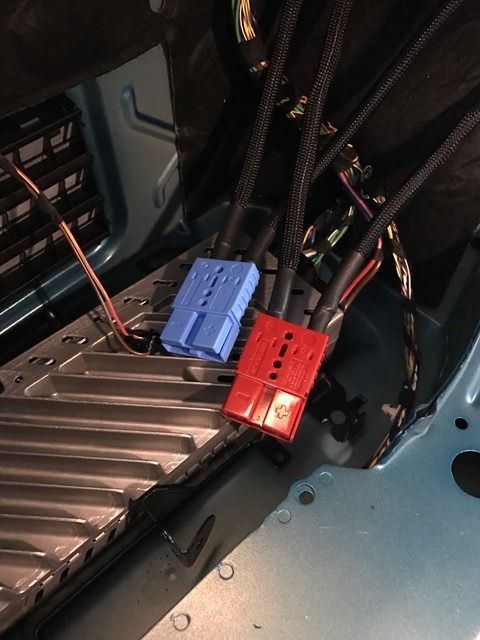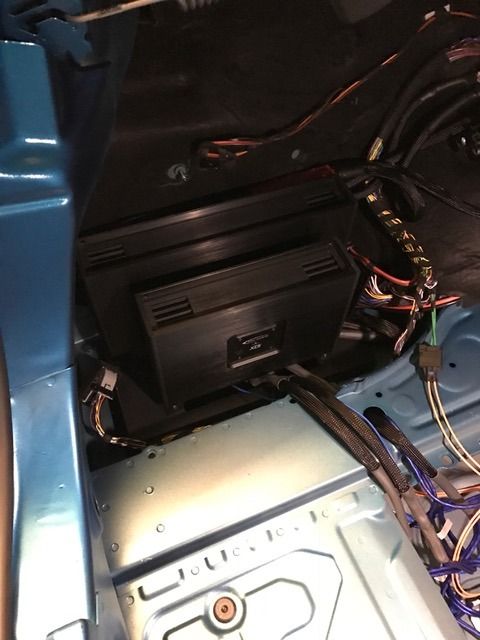 - Replaced incomplete OEM battery distribution block with a new and complete version (no need to disconnect battery, just distribution block):



Top: distribution block installed at factory.
Bottom: same P/N distribution block ordered at local dealer



Power cables ready to be plugged into OEM distribution block: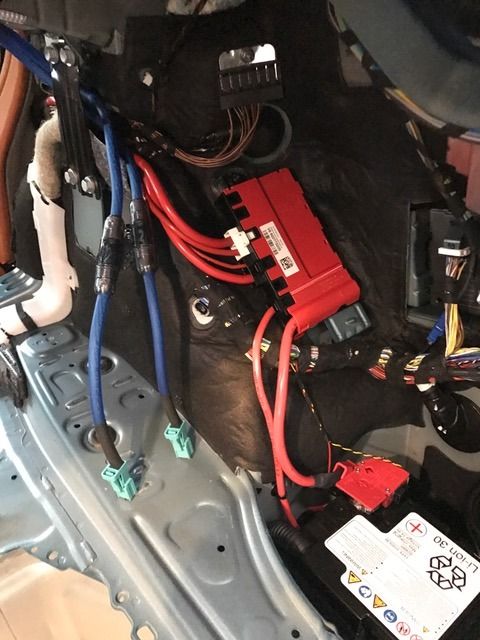 - Replaced standard left trunk trim with OEM DVD Changer trunk trim (P/N 51487246299) to clear Arc Audio amps and mounted JL Audio sub: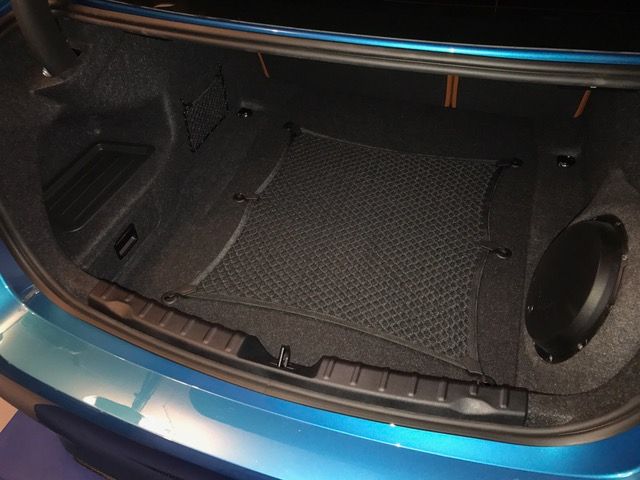 - Custom PXA-H800 module install:



- PXA-H800 controller custom faceplate mount: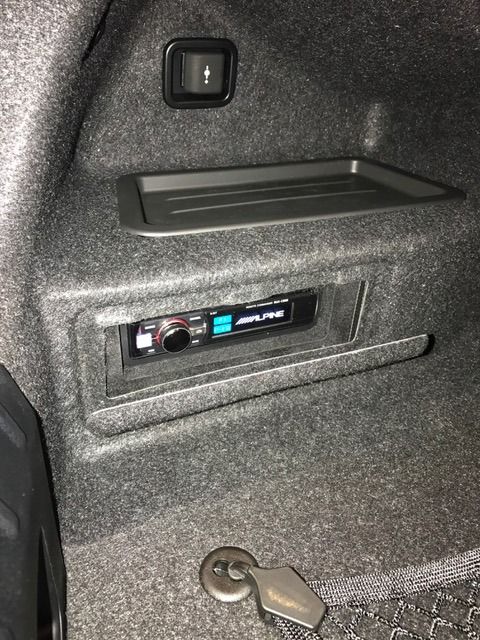 - Tune PXA-H800 to interior of car via included microphone: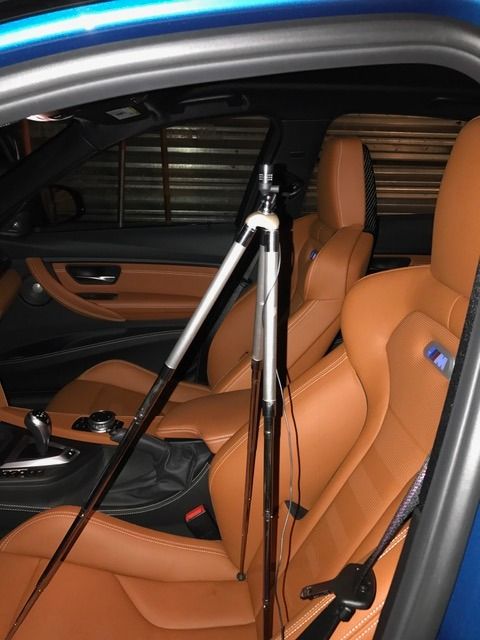 MOST interfaces:
Option 1: Audison DMI Toslink into PXA-H800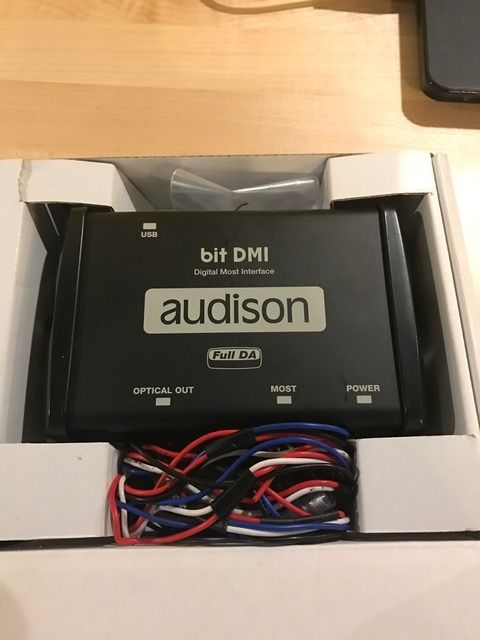 - This MOST socket P/N 61136917978 is required to properly terminate the MOST terminal: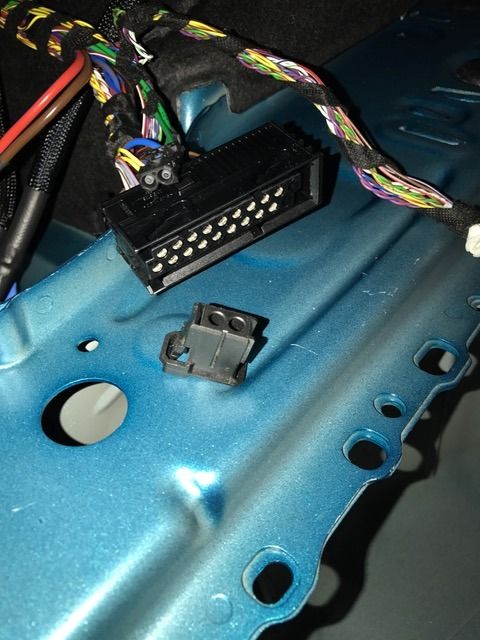 -

MOST connector (socket + terminal) complete: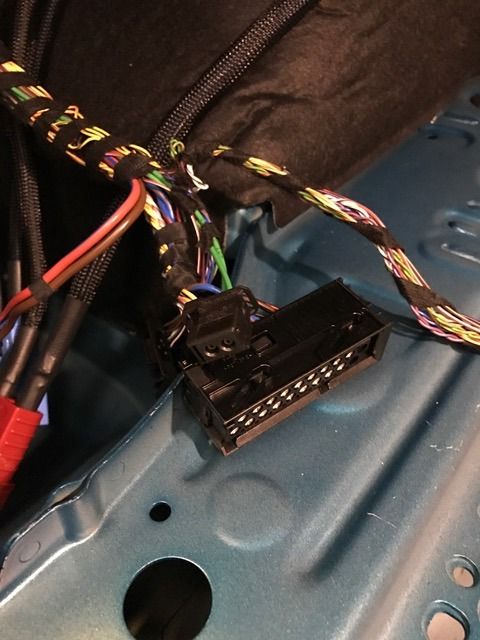 - Insert MOST connector into included MOST extension cable and connect to DMI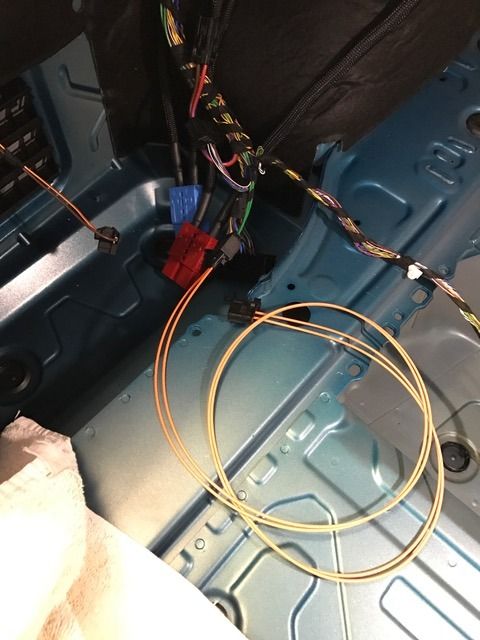 - DMI connects to PXA-H800 using a generic Toslink cable (not shown)

Observations:
Right off the bat: sound is fantastic. Sound is crystal clear even with OEM speakers. Bass is solid everywhere, highs can be bright or soft depending of adjustments. PXA-H800 has Dolby Pro Logic II and its own Euphony 5.1 decoders with a vast number of adjustments in the digital domain so anything can be adjusted -bass, midbass, highs, voices, surround, time alignment, soundstages (driver, passengers, all) anything. If surround sound is not desired then there is a Stereo setting. But what got me from the get go is how clear the sound was, especially the absence of the "hiss" commonly found in analog sources and the complete elimination of the muffled sound in all sources.

The only problem with the DMI integration and this particular install is that the DMI firmware is not updated for the MY2017 iDrive 5 (NBT Evo II). Most of the audio was properly decoded except Bluetooth phone and Nav Guidance audio. Callers can hear me but I cannot hear them. Nav Guidance audio was heard only in its last words. This may or may not apply to MY2016 and before. Check your own implementation.

After testing I found out that if I turn up and down the volume during a call or during Nav guidance then audio will be heard. Unfortunately the audio muting returned each and every time in the next call or Nav guidance audio, so this "volume up and down" has to be done each and every time. I contacted mObridge, the manufacturer of this MOST converter (the Audison DMI is a repackaged mObridge DA1), and after providing them with MOST traffic data they concluded that their latest firmware was not able to decode this MY2017 iDrive 5 audio and that they will take some time to develop a solution.

I did not want to wait for a solution that could take months so the DMI was out -that is the reason that there are no installed photos of it.
---
Last edited by Technic; 02-16-2017 at

05:53 AM

.