07-09-2012, 12:41 PM
Past Sponsor

Join Date: Jun 2012

Posts: 86

Mein Auto:
3D Universal Protectant
---
Thick water-based dressing
Protects & beautifies any rubber, vinyl, or leather surface.
Interior and exterior use
Brings "New Life" to dull surfaces
Repels Dust
UV Protectant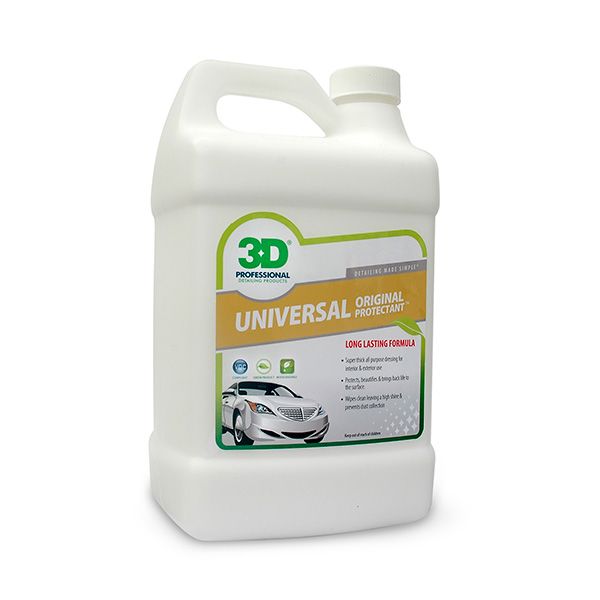 3D's Universal Protectant™ is a thick, water-based dressing that protects and beautifies any rubber, vinyl, or leather surface. It is an all-purpose, water-based product for interior and exterior use. Will bring "new life" to surfaces. Due to its non-greasy properties, unlike other products on the market, overspray is easily removed from the body of the cars and windows. Can also be used on engines. 3D's Universal Protectant™ is far better than any product in the market of its kind. Will NOT collect dust. Guards against UV damage, and is specially formulated for those who love a HIGH SHINE on tires.

3D Universal Protectant: Protect Anything and Everything

The 3D Universal Protectant is a water-based dressing agent that not only protects, but also refurbishes surfaces such as leather, rubber, vinyl, and any other surfaces. With just one swipe of a microfiber cloth, it can bring back the vibrancy and shine to all materials. Unlike most products on the market, it has a no-grease property that allows you to simply wipe off any overspray on the body and windows of the car.

Do you want to shine your engine? The word 'all-purpose' is epitomized by its compatibility with being used on the engines.

Some people may ask:

-Why choose a water based dressing? While some solvent based dressings can damage surfaces; water based dressings repel dust. Some customers prefer tires with a satin look, which is why detailers choose 3D Universal Protectant.

-Where can I apply this Universal Water Based Dressing? You can use it on dashboards, consoles, rubber window seals, door panels.

-Is there a universal water based dressing that is green and biodegradable? Yes, 3D's Universal Protectant.

This water-based formula is an all-purpose product for interior and exterior use that will bring new life to various surfaces in your car. It also acts as a UV shield guarding against harmful UV Rays that can fade and crack leather and vinyl surfaces, dashboards, and leather seats.

Although there have been varying formulas made that allow you to protect all of these materials independently, there are all-purpose protecting agents that allow you to take care and protect them with just one wipe, while also adding a great shine. However, not all of these so-called all-purpose protectants can deliver what they say that they can, and there are only a select few that really deliver results. The 3D Universal Protectant is one of those that can really deliver!

You can achieve high quality performance by putting a small amount onto an applicator and spread it evenly on the desired surface. Even with its high concentration, never dilute the solution so that you will get that high gloss effect. After application, let it dry to that smooth glossy finish. 3D Universal Protectant is made from proprietary ingredients that will never gather dust, post-application.

Although this protecting product was specifically made for giving a nice sheen on tires, apply it to other materials such as the dashboard or your leather steering wheel to reap great results. In the end, the 3D Universal Protectant can really live up to its name: it really can universally protect anything and everything. Great for RV's mobile detailers, car care shops, dealerships where space is everything. So if you are looking for a universal dressing that does all the work and takes up less storage space then this is the best dressing for you!

For the best price and the cheapest water based dressing choose: 3D Universal Protectant buy only from 3dproducts.com where the lowest prices are just the beginning!
DIRECTIONS

For best performance on tires, clean with Yellow Degreaser. As this is a "Super Thick Formula", we recommend to use our 3D Squeeze Bottle to apply the dressing onto a sponge applicator or a brush and spread on to the desired surface. For long lasting "High Shine" on tires, DO NOT DILUTE. This product dries to a non-tacky, smooth glossy finish preventing dust collection.