05-12-2016, 11:17 PM
Registered User

Location: Washington, USA

Join Date: Apr 2016

Posts: 34

Mein Auto: 2010 BMW X3 xDrive30i AWD
Disabling Daytime Running Lights - 2010 X3 E83 (Canadian model)
---
Hi everyone. I recently got a new 2010 BMW X3. This model has Xenon headlights, and angel eye rings. However since this model is Canadian, it has the mandated DLR's always on.

My headlight layout is as so: ( Xenon | Hal. running light | GRILL | Hal. running light | Xenon )

The two inner halogen running lights are always on when the engine is running, and I would rather just have ONLY the angel eye rings on unless I have all of my lights activated.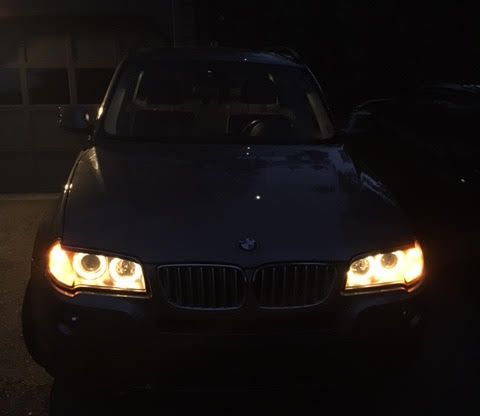 I know this should be able to be done with coding since the second I turn
the car off, the two inside halogen running light bulbs turn off leaving just
the angel eye lights on which is exactly what I hope to achieve. (image).


I have searched the interwebs a lot on this issue, and most end up with outdated threads saying: "Talk to a dealer" (I have), "disable it with idrive" (I don't have idrive), or "rewire it" (would like to stay away from physical modification).

I would love to see if anyone else has been able to do this via coding, and if so what commands / functions were used to do so. So far I have yet to buy a coding cable and try this, but I have heard some say that if I can change the "profile" of the car to say "US" instead of "CA" then that may fix it, I have heard others say you have to disable DRL, but many have the side-effect of the Angel Eye lights also being disabled.


Would love to have someone shed some light on this! Many thanks.
---
Last edited by zachisback; 05-12-2016 at

11:47 PM

.