You've found the battery positive charge point. The negative charge point is not covered and is found along the edge of the engine compartment on the driver's side just aft of the strut tower. It's a large silver nut just like the one under the + cover. It's pretty obvious because there isn't a matching nut on the passenger side.

Make sure that the car you're using to jump your Z4 is connected properly (red on positive and white or black on negative). Then connect the other red jumper cable to the positive charge point on your Z4 and the black or white cable to the negative charge point. If there are any sparks, disconnect immediately!

Have someone start the other car and keeps the revs to about 2000 RPM. Now try starting your car. It should start right up. Keep the revs up on your car for a few minutes then go for a drive (don't stall it!). It should be good to go.

P.S. Get a boom box for your garage!

P.P. S. Welcome to Bimmerfest!
__________________
- Tom
-------
Mine: 2006 Z4

Roadster (E85) | Interlagos Blue Metallic | Black Extended Nappa Leather | Carbon Leather Trim | Purchased 7/19/12
Hers: 2011 335is Coupe (E92) | Le Mans Blue Metallic | Black Dakota Leather | Dark Glacier Aluminum | 6MT | ED 5/12/11
BMWCCA #444696
- Click to join and a chance to win a 1-Day M School at the BMW Performance Center!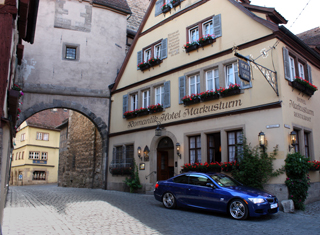 ---
Last edited by SD Z4MR; 09-28-2012 at

04:20 PM

.