An Un4gettable 48 Hours with the 435i
Un4gettable Weekend (48 hours with BMW; on track/off track/ in the garage)
Quick Note:
I am not a professional writer; I am just a BMW fan and Super Dad. So please excuse me for any writing errors on my part. I am more interested in getting the story conveyed and share some of the pictures from an Un4gettable Weekend I just had.
Reflecting back and pondering over the Amazing weekend, I just wanted to take few minutes to capture these moments and share with the community
Background
Beginning of the month I was contacted by Gabriela H (Digital Communications Specialist) at BMWNA. Gabriela contacted me saying how they have noticed my active involvement with the BMW community on the Internet Forums (of course the internet forums is none other than e90post.com). They wanted to interview me on Skye to see if I was the ideal candidate for their Documentary they are creating (The Documentary is on BMW Super Fan). So as the story goes on August 1, 2013 I was contacted by Jess L. at KBS+; KBS+ is BMW's agency for recording the documentary interview.
Fast Forward to the weekend:
August 24, 2013 9:00 am EST KBS+ shows up at my house in Herndon, VA (For those who are not familiar with Herndon, VA It's located near Washington DC and a suburb of DC). They come with the full staff of 15 people to record this documentary of BMW SuperFan and how I grew to love this Brand over time from childhood to adulthood. They take about an hour to select the perfect location to interview me in my house as well get the lighting, camera and sound ready.
August 24, 2013 10:15 am EST Camera Roll Take one: Scott from KBS+ starts the interview with a series of question of how I grew to love the brand, what is my favorite BMW, why I like BMWs and how I find them different car company than other brands. They were fairly good questions telling my story and I enjoyed the whole conversation. (Video edits from the interview to come soon but the pictures are already up on BMW twitter and facebook page. Anyways, once the interview concluded they told me they had a surprise for me. Scott asked me to walk outside of my house and knock on the garage door. At this time, I am like what could it be??? But let me roll with it and find out. I walk out to the garage and knock on the door. They carefully open the door to reveal the new F32 Mineral Gray with Coral Red interior. I was speechless when I saw the car. I was dying to see this car, but never imagined I would get the preview in such advanced in my own house. Wow is all I could say. If you see the picture of them opening the garage, you can clearly see how happy I looked.
https://twitter.com/bmwusa
https://www.facebook.com/BMWUSA
http://www.ge.tt/9Vea0wp?c
The goodness doesn't end there. KBS+'s account Director then tells me the plan for rest of the day. Next, Felix from BMW of Sterling, VA gives me the keys to the car and tells me BMWNA has given me to drive this car around for the next 48 hours. AMMMazing is all I can say. The F32 was fully loaded with Sports/Premium packages. Not to leave out the HD Navigation with HUD unit. I was gushing over the car at this moment. The lines of the car are incredible and make my e92 M3 look classic. Next, Katie B. tells me take an hour to look over the car and get some lunch then meet them at their hotel where they were residing. They stayed at Marriott Court Yard which was few miles from my house. The rest of the day consisted of my wife and I driving through windy roads of Western VA to West Virginia ending at Summit Point Race Track. Where I will be taking the car on the track in closed circuit to test out the car to my liking without any worries of Donut Eating Police Officers.
Next, before we start to roll Katie gives my wife and me a bag full of goodies for the road. The goodies were from Wegman's and consisted of nuts, water, chocolate covered figs and so many good things I could not name. Shame on me. The staffs of KBS+ were so attentive to all my needs that they made me feel like a SUPERSTAR. Sorry, I meant SUPASTA. Lol.
Once we start rolling, they take various pictures from the front, rear and the side. There were 3 camera Vans rolling the entire time capturing each and every second of my un4gettable weekend. We make a pit stop at a Vineyard in Western VA near Harper's Fairy. It was beautiful and the weather totally cooperated with us. This is where they took some Hero Shots of me. Lol. Of course I was so in love with the car that I just couldn't stop smiling.
Finally a little after 5:00pm EST time I arrive at the Summit Point track Gate 1. Where I am greeted and directed to the Jefferson Circuit. Once I arrive, they take a moment to tell me that I have yet another surprise. They flew in Special Team, BMW Performance Driving School's Chief Driving instructor Matt Mullins to guide me in the track and show me the ins and outs. Whatttttttttttttt? I was shocked and thrilled at the same time. It took me a few minutes to sink in as I am being bombarded with surprises all day long. Mind you these are all great surprises and I couldn't ask for anything more. Finally when it all sunk in, I had to go over and shake the MAN's hand again. Matt then took me to the track and familiarizing me with the track. He took me around few laps followed by letting me take the car. Oh, I forgot one more thing. They also had my good friend Brian Hairston from Forcast Wheels at the track to share my joy. I got to really drive the car here and push it. The car was perfect. I was actually able to drive this car faster than my Dinan M3. Having the 3 modes of suspension was a great plus. The comfort for the road, ideal for my wife; the sports for me on the road and Sports Plus for the track. I was amazed how the car handled from the factory with these settings. I was able to push the car in triple digits many times with the Turbo engine. There was very little lag in the turbo spooling up and the 8speed auto Transmission was a delight. It felt as good as the dual clutch without the docile characteristic of the car. The Sports Plus really allowed me to push the car to the limit and test out the suspension and M-performance Brakes at the same time. The car is so refined that I am surprised how they improved on perfection.
At the track, I continue to rip the car around the apex like I stole it. I had a total blast with the car. Subsequently, my wife tracks the car followed by my good friend Brian Hairston. Brian can chime in on how much fun he had.
The concluded at 8:00pm EST. Then we were to drive home the car through the mountain roads of West VA and Western Virginia. The HUD display really came in handy as I never had to take my eyes off the road while the Comfort setting allowed us to unwind the one hour ride back home. It was a wonderful day 1 and couldn't wait until day 2 to start.
Day 2:
In the am I spend most of the day driving the car on the roads of VA taking my nephews out on a spin. They are the new generation of BMW lovers. Too bad none of them are old enough or close to getting their license anytime soon. However, they did all love the car and called it the BOSS CAR.
August 25th, 4:00pm EST: KBS+ come back to my house to re-interview me for rest of the documentary. They had I pictured detailing the 435i, ask me my input from the track, my future BMWs. The next 3 hours, we spend doing various indoor and outdoor shooting while every neighbor passing by wondering what is going on. The goodness doesn't stop there; they finally end the day with two more surprises. One for my little daughter (22 months) – They give her a Fire Orange Lime Rock Park Edition push car (paint code 490, just in case we need touch up paint), t-shirts for both my wife and I, BMW mug, cap and a Key fob with all the pictures from the weekend.
I will write more of the technical review later on the day, but just wanted to Thank BMWNA – I love you guys and the crew at KBS+. They practically felt like a family and we had so much fun together. It was unreal you can have so much fun and care of someone you just met not even 48 hours ago. J I don't remember everyone's name, but each and every one made a huge difference in my weekend and making it truly an unforgettable weekend. Katie, Scott, Leigh, Larry, Andrew, Matt, Dae-He, and everyone else you guys are the BEST. It was nothing short of PERFECT DREAM come true. I have loved BMWs even before I knew what they were. The love affair began at age 4 when my parents bought me an orange Matchbox BMW. And the fire burning inside has been put out. BMW continues to surprise the enthusiasts with the latest and greatest toys. There is truly no other brand out there that is as complete and no one manufacturer that puts so much attention to details on a car (or let's just says cars that most common person can afford).
I am truly blessed to have such an awesome weekend and to be able to enjoy with my wife, daughter, nephews, friend, mom and dad.
This is the end of this chapter. I will write technical review later today to share with you guys regarding the engine, performance and the amazing feeling of driving this car.
Me at the Vineyard: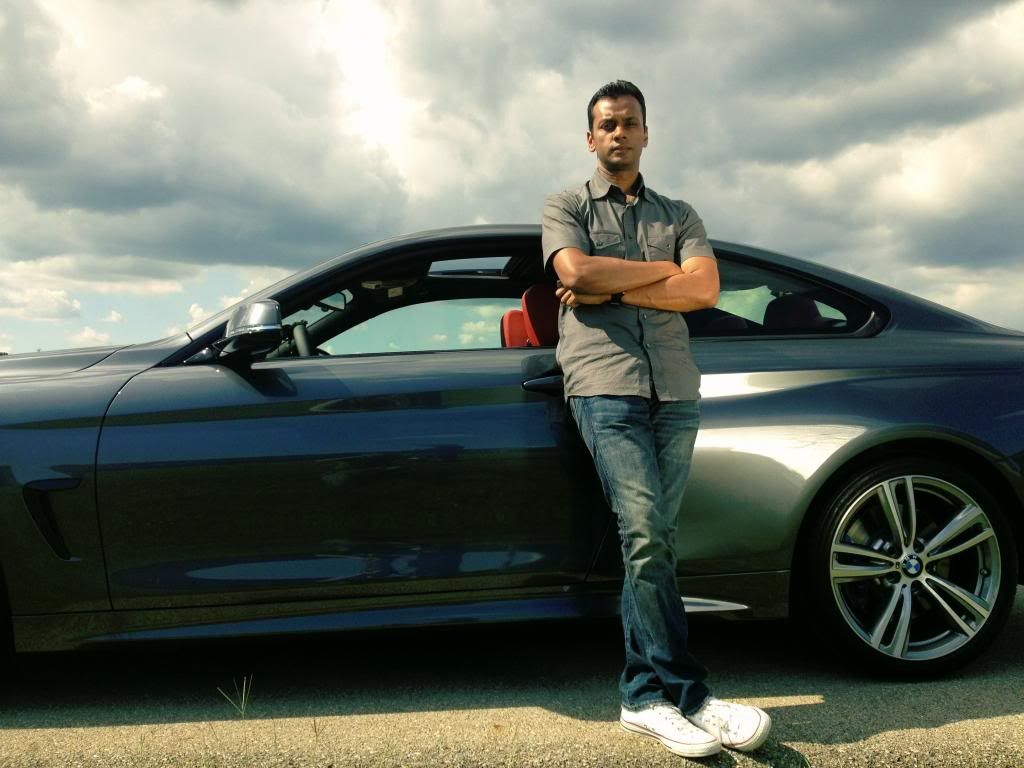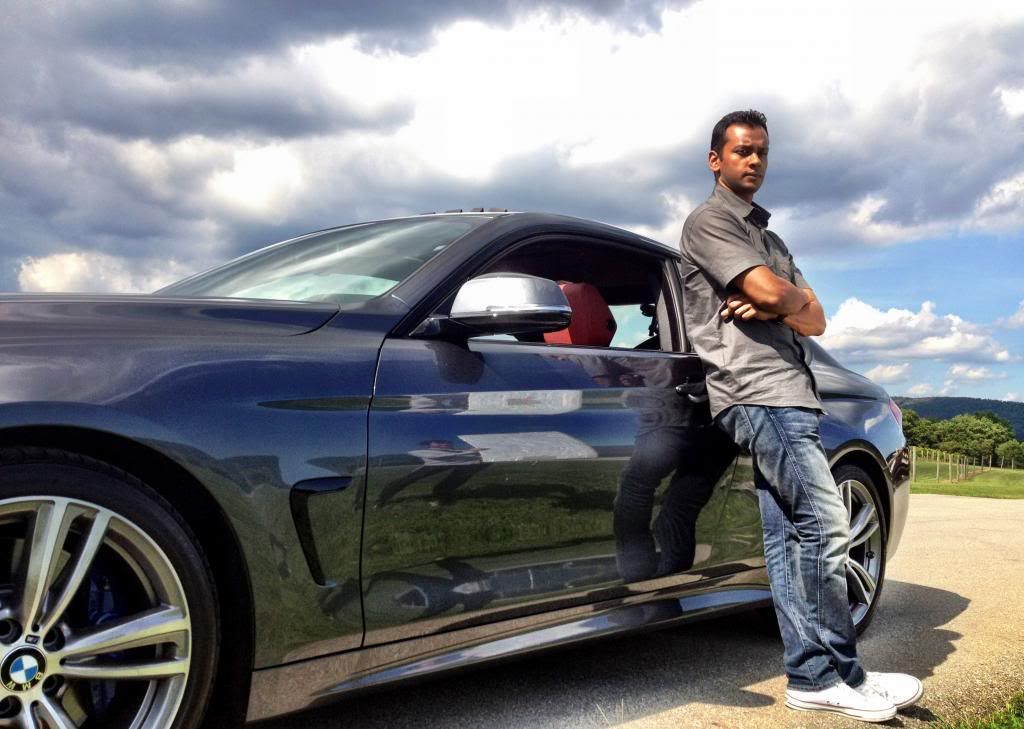 The crew of KBS+ pushing the car in while I am being interviewed inside the house. They did not want to have the engine running as I may possible hear the car and the surprise may be ruined. So smart of them: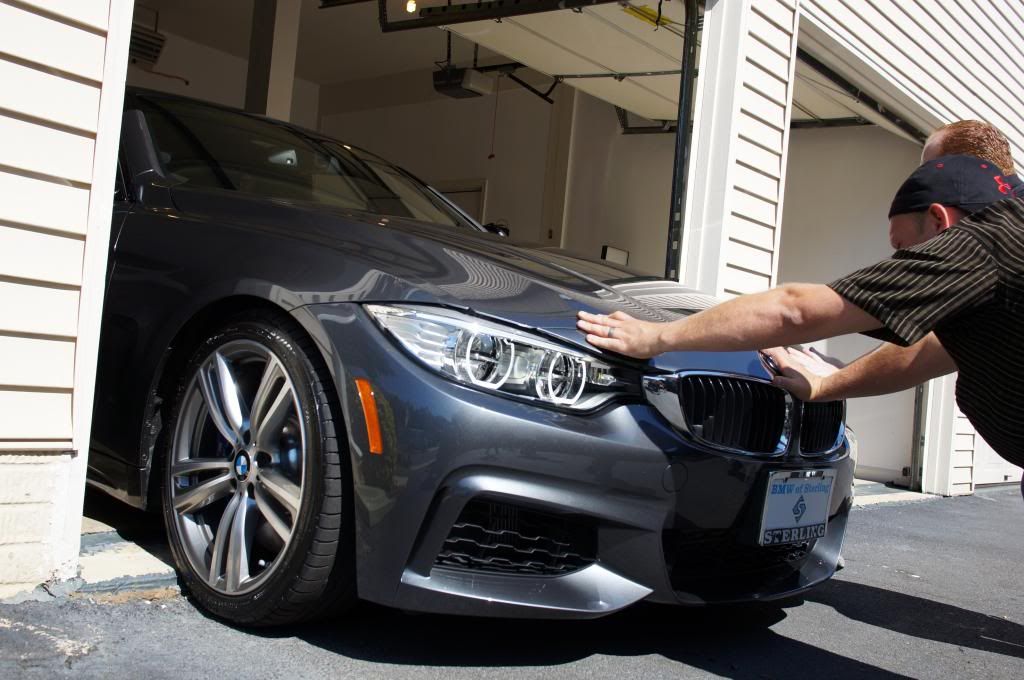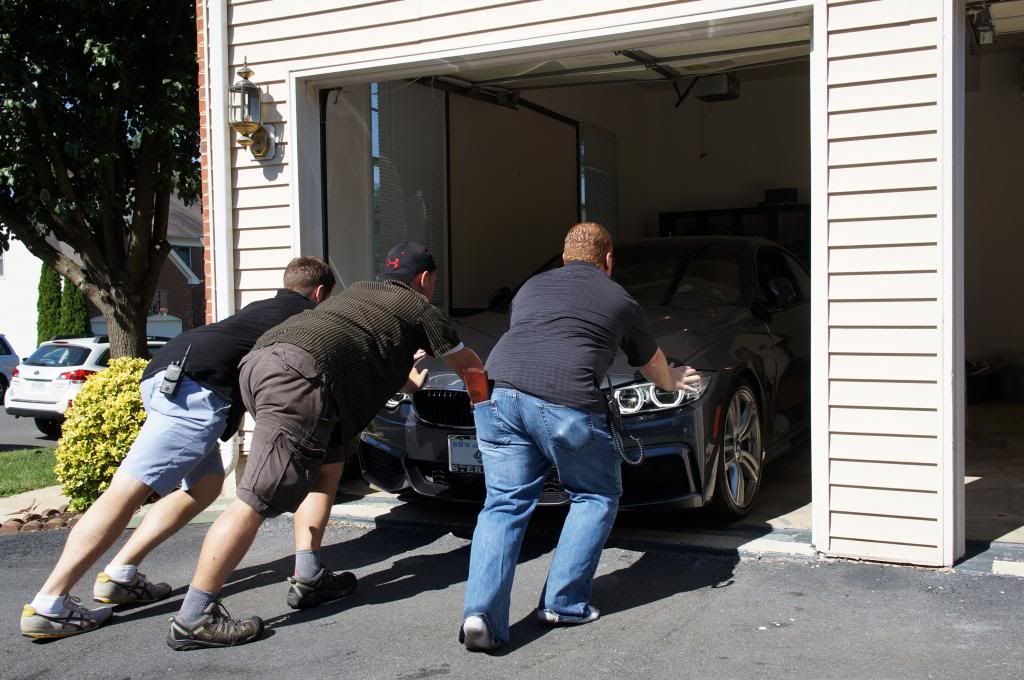 My first real world view of the 435i: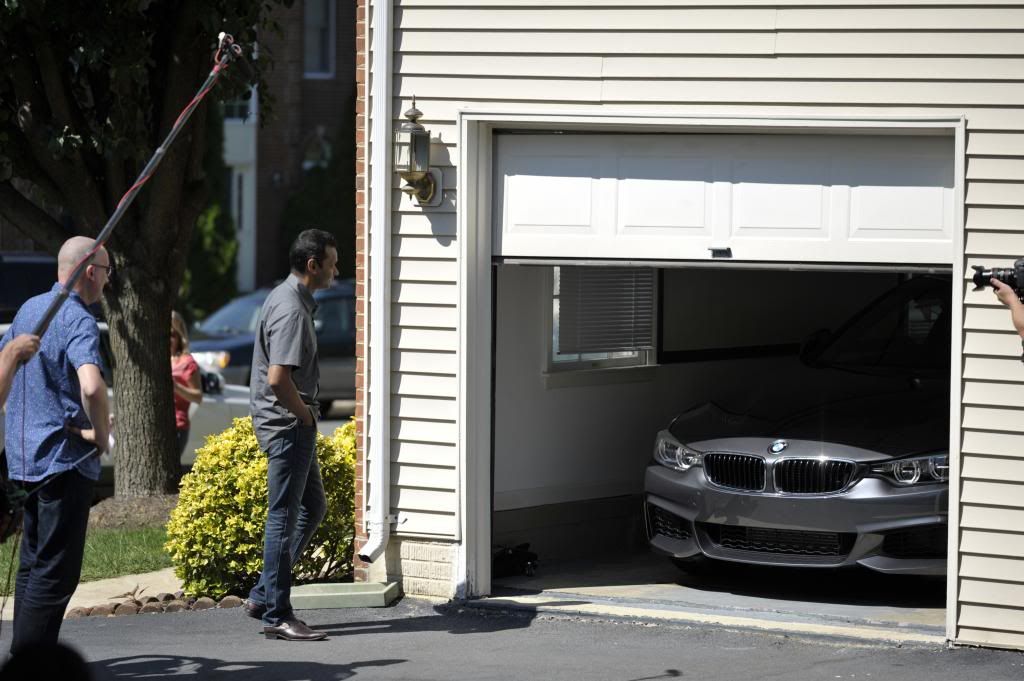 Examining the lines of the car: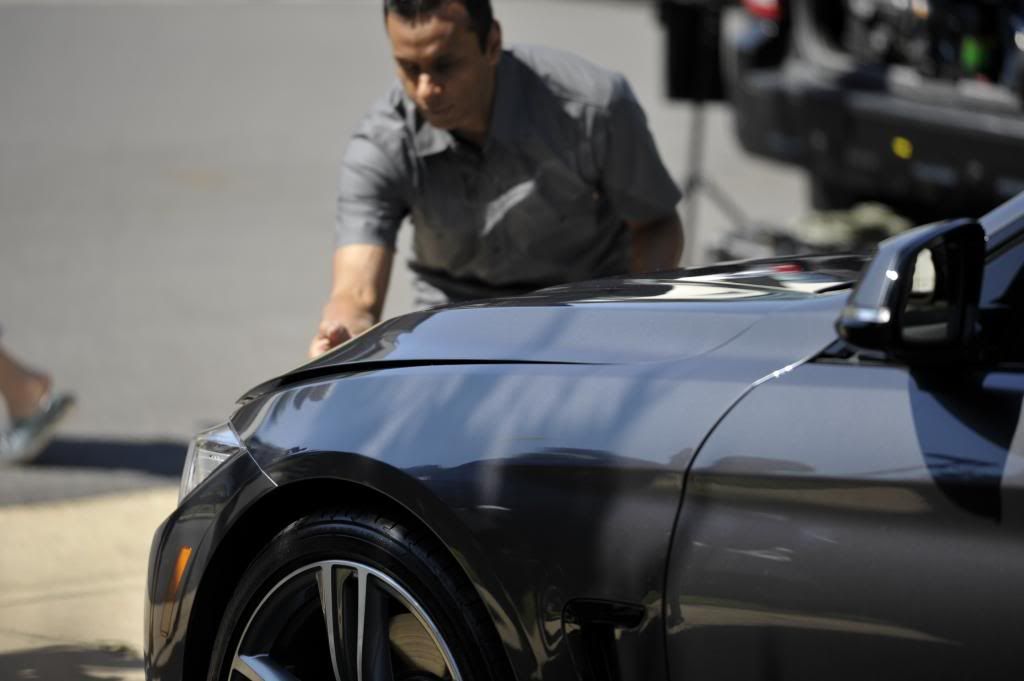 My daughter testing the navigation: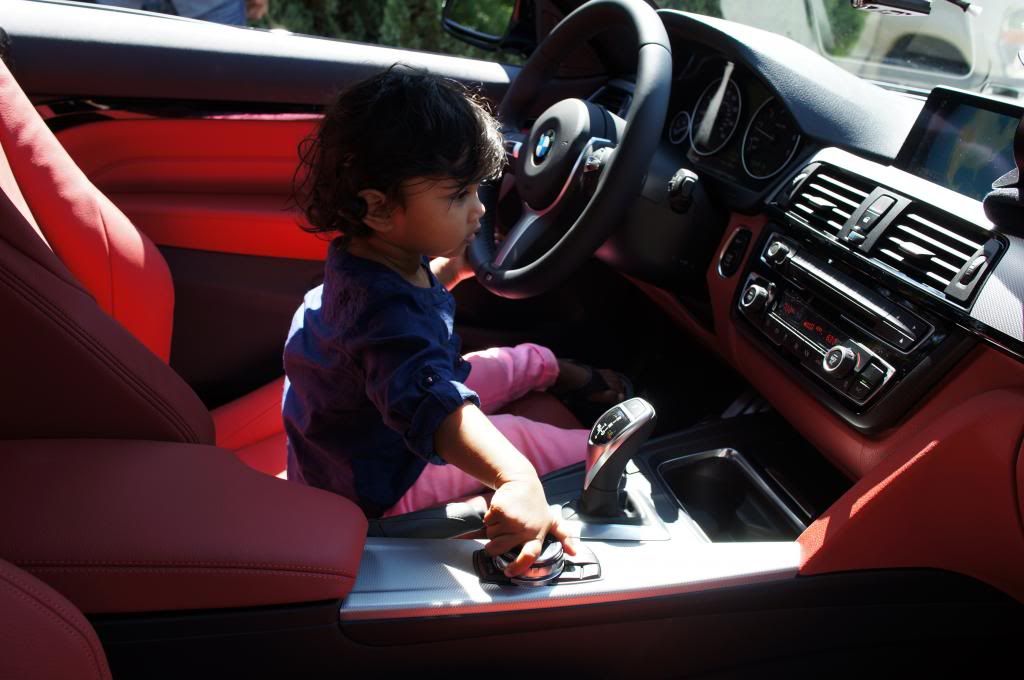 My beautiful daughter (Mash'Allah) thinking of how many more years before she can drive a car, she is starting early. 14 years to go.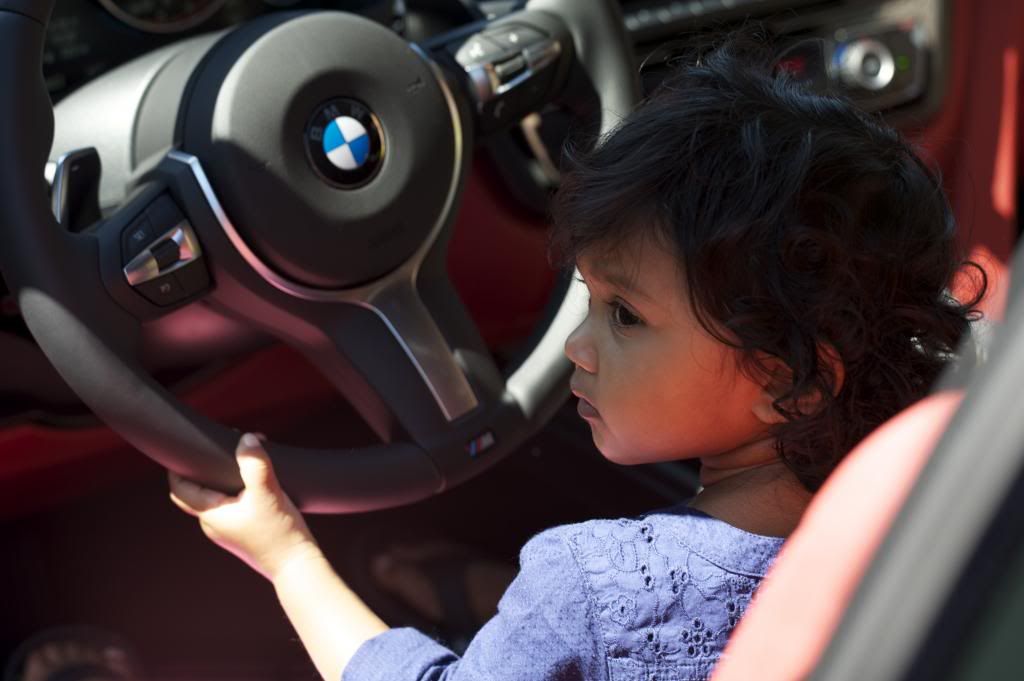 Interior:
Me at the Vineyard: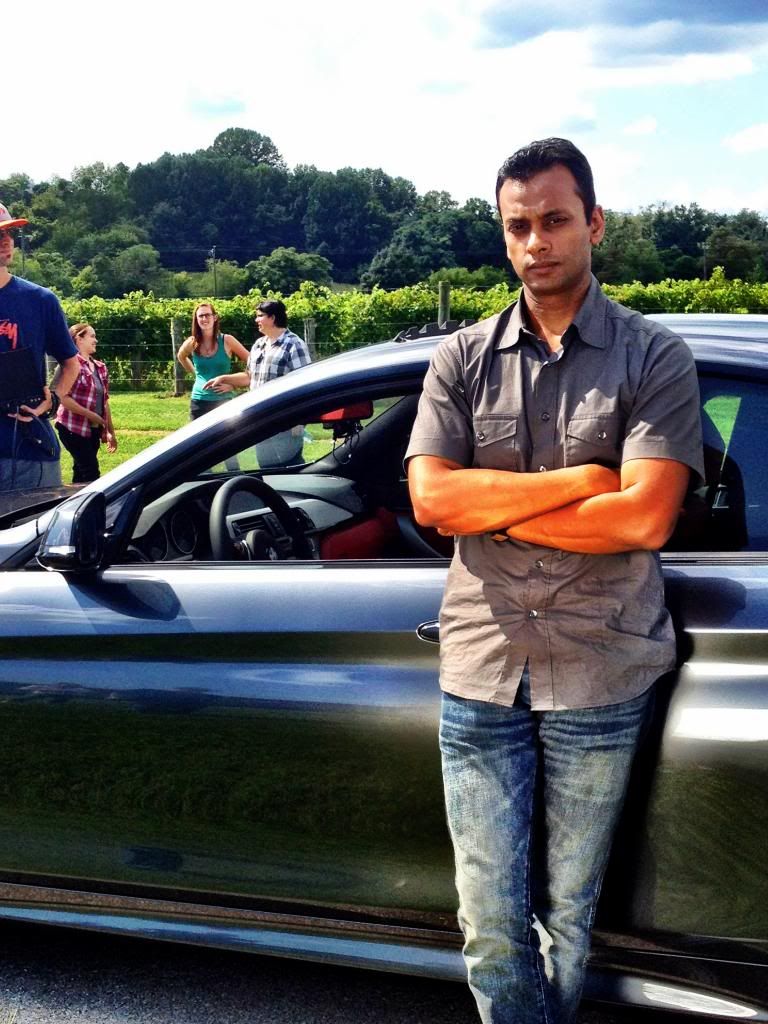 Talking to Brian about the engine:
Matt and I getting ready for the track:
Ripping it at the Summit Point track: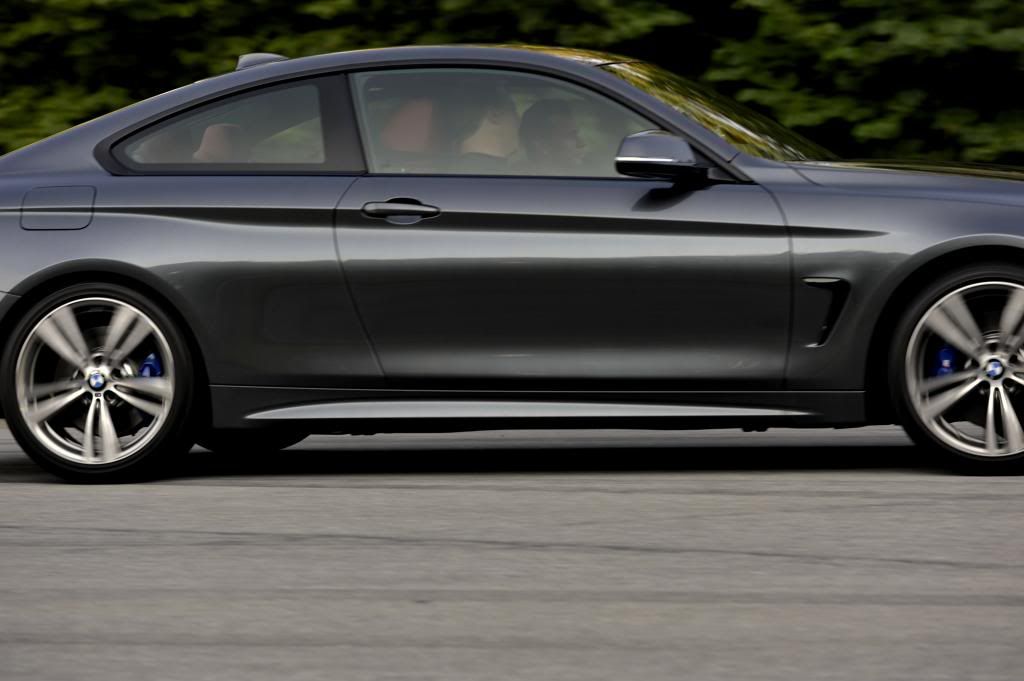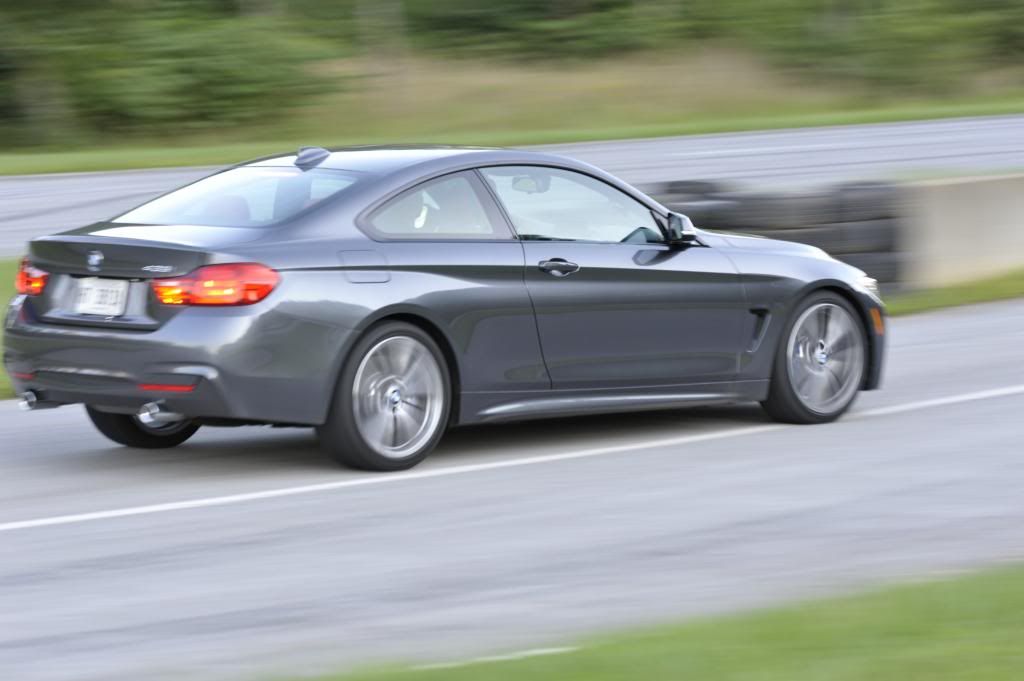 At top speed, lol: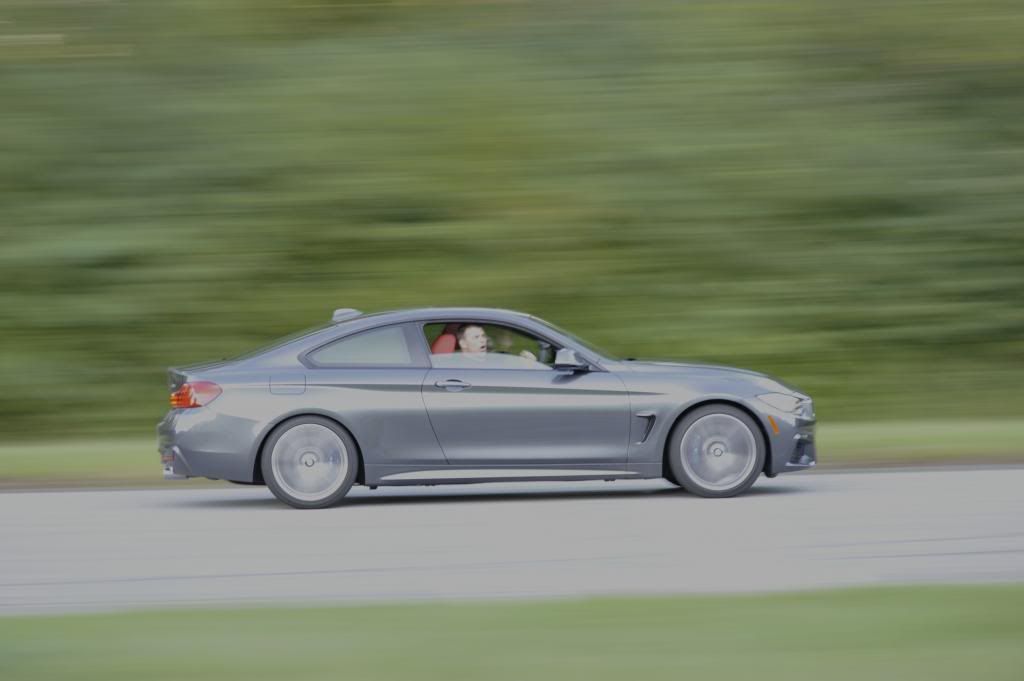 Driving at full throttle: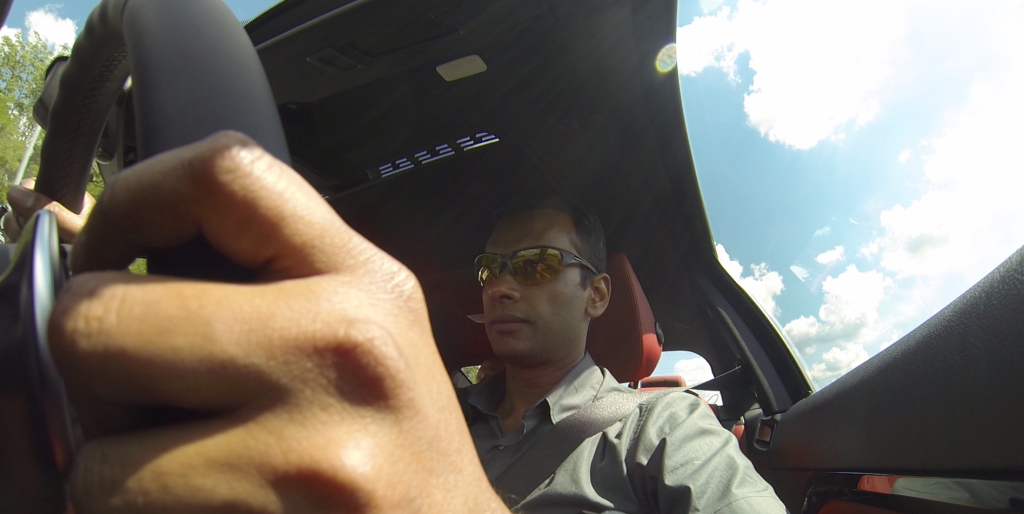 Leave a Comment
14 responses to An Un4gettable 48 Hours with the 435i
sr5959
commented:
August 27, 2013, 8:09 pm
Great write-up and pics! Car looks awesome in your garage!
AzWildcatG
commented:
August 28, 2013, 12:58 am
This is epic!!
Props to you!!
I would have enjoyed all the attention & driving experience. Sign me up next!
GVFlyer
commented:
August 28, 2013, 1:54 am
Truly epic.
Your selection was informative as to BMWNA's apparent desired demographic - married, suburban, sub-40 modern American, edgily dressed, clearly upwardly mobile and discriminating in the market place.
jtking
commented:
August 28, 2013, 2:03 am
What an awesome treat! Not to mention great press and exposure in the enthusiast community. Good on you!
JT
jdauria
commented:
August 28, 2013, 3:44 pm
Herndon, VA?! How did I miss this car driving around the area.
rotorheadbob
commented:
August 29, 2013, 9:39 pm
Great write up, thanks for sharing! Love the pix of the younger driver in the house!
gizmo jean
commented:
August 30, 2013, 8:39 am
Just a quick question. What was it about the car that allowed you to get faster track times than a Dinan M3?
Was thinking of getting a slightly used M3 versus a new F32.
kobechrome
commented:
August 30, 2013, 9:49 am
Just saw this car 2 days ago at BMW of Sterling. They said some dude won a weekend with it and just returned it... I guess that was you!
bighorns
commented:
August 30, 2013, 10:05 am
Nice write up. One question: does your experience with this 435 have you anticipating the new M4?
Daedalus34r
commented:
August 30, 2013, 10:38 am
very cool experience, congrats! Many BMW buyers are desis and its good to see them reaching out and choosing minorities for this special occasion. This is mosdef a memory you will never forget.
gkr778
commented:
August 30, 2013, 11:36 am
Quote:
Originally Posted by
GVFlyer
Your selection was informative as to BMWNA's apparent desired demographic - married, suburban, sub-40 modern American, edgily dressed, clearly upwardly mobile and discriminating in the market place.
Filter all that marketing bull**** out, and the salient point about LIL RAJA's selection for this BMWNA weekend event is: he is a person who who genuinely enjoys driving!
Thank you for the excellent report, LIL RAJA!
SuperTerp
commented:
October 17, 2013, 2:02 pm
Hey guys Raja whose on a lot of the sites and helps a lot of us in the DMV got a chance to run the new 4 series check out his video if you're really interested in the 4 series.
I can say the new interface on the idrive is an insanely good upgrade.
He's a great guy and you can ask him anything on fb,e90, probably has an account on here.
http://www.youtube.com/watch?feature...&v=IjjSCuV-PRo
FAST FRED
commented:
October 17, 2013, 2:15 pm
Nice video.
SuperTerp
commented:
October 17, 2013, 3:49 pm
Thanks for the merge