BMW F06 F12 F13 M6 with RW Carbon Aero Kit
Mixing a tasteful yet aggressive design with amazing performance, the BMW F06/F12/F13 M6 is a beast of a machine. Although the M6 contains a twin-turbo V8 engine making 560-hp and 500 lb-ft of torque, it's power is complemented by a stylish exterior attracting attention all over the road.
To make the design of the M6 stand out amongst it's competition, modifications can be applied to give it a sport-inspired, aggressive feel. RW Carbon specializes in carbon fiber aero products to enhance the look of the M6 coupe, convertible, and gran coupe.
This San Marino Blue Metallic BMW M6 Gran Coupe has been enhanced with the following upgrades:
F06/F12/F13 M6 DTM Carbon Fiber Front Lip
F06/F12/F13 CF Side Skirt Extensions
F06/F13 DTM Carbon Fiber Trunk Spoiler
F06/F12/F13 M6 DTM Carbon Fiber Diffuser

Like all of our products, these items are crafted from genuine carbon fiber and completed with a clearcoat making it easy to clean and resistant to fading or discoloring. All parts come in 2x2 carbon fiber weave designed to match other RW Carbon or BMW Performance parts you have on your vehicle.
For any questions about these parts or any BMW carbon fiber products please PM me or visit our online store.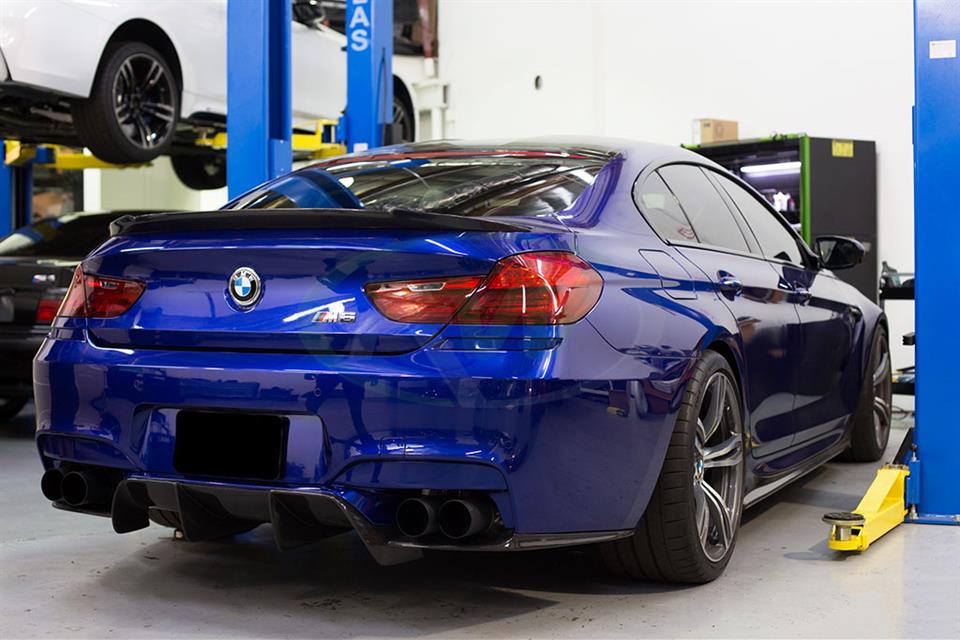 If you have any questions or comments about these RW Carbon Fiber parts used in this build please reach out to a CF expert at your local RW Carbon. Email me at
greg@rwcarbon.com
or give us a ring at 714.328.4406