05-24-2016, 10:54 AM
Achtung! Hochspannung!

Location: Pacific Northwest

Join Date: Oct 2014

Posts: 1,309

Mein Auto: 2018 i3, F10 535d
BMW USB Cables(Apple 30-pin, Lightning, MicroUSB)
---
Alright guys and gals, I bet I was not the only one with this question in my mind:

How good are the BMW MicroUSB , Apple 30-pin and Lightning cables???

I have been wondering for the last year or so, since I heard they sold cables branded by BMW. Finally got my hands on all 3 of them to test!

Yes, I realize the 30-pin connection is deprecated; but I still have a 5th Gen iPod Video, and I have seen a good number of iPhone 4s models still in use.

So, here is the testing I have done for each cable:
USB Data movement testing
Charging current capabilities
Pin/Connector life

Apple 30-Pin:
BMW Part# 61122220019


First off, let me state this is the cable I have had the longest. I bought this just after the cables were released, and have been using it pretty regularly over the last year at work for charging/testing purposes. The cable has not frayed, and the pins all make good contact; it is not loose when plugged into the iPod, connection is stable when moving the device. Seems to be a quality built, metal head on both ends that has held up to regular use.

I did not bother to do a charge current test on this cable, since I do not know of any devices that use this connector that can pull more than 1A.

I was able to get full USB 2.0 speeds out of this doing an iPod restore, measured 22MB/s average; what I expect from USB2.0 sustained data movement. 16" total cable length is a bummer however.

Lightning:
BMW Part# 61122354478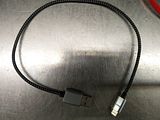 This is my most recent purchase, as it was the most expensive of the group and I do not have any devices that use it. I borrowed a buddies iPad for testing purposes on this cable. I ran it thorough it's paces, using a broken iPhone 5S to plug/unplug the cable over 300 times in a sitting to see if the contacts wear off. So far, so good! They seem to be holding up as well as the 30-pin did, does not show any signs of increased wear after the plug/unplug firestorm. Connection was stable while moving around the cable. Both ends are metal, so it feels really solid as well.

As far as charge current goes, I was impressed. The BMW cable supported the same amount of charging current as the Apple cable did when using the Apple 12W charging cube. HOWEVER, using a 10W cube supplied with my android phone, both cables only put out about .8A(~4W), something to note when charging Apple devices when using other chargers! That same charger is the one used to test the MicroUSB cable, so I know it puts out the full 2A on Android devices.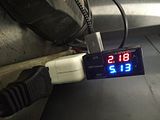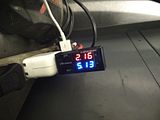 As for data transfers, I again saw solid performance out of this cable. A consistent 23MB/s after the initial peak when transferring a large file to the iPad storage.

Again, 16" of cable often does not seem like enough; but for keeping it in your center console it should work fine.

MicroUSB:
BMW Part# 61122336423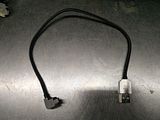 Lastly, we have the MicroUSB cable. I have had this one almost a year now, buying it for my wife to use as she is terribly hard on USB cables. Between the two of us it has seen pretty regular use, she finally got tired of how short so I took it to work and started using it to charge my phone and test cars with. Connection is still tight in the phones, stable when moving around the device. Metal ends once again make this cable feel really durable, and it has held up almost a year for me so far.

Charge current is again impressive, it supports everything I asked of it easily. I only have a 10W charger that is supported by the Android devices, so I could only test up to 2A; but it did that perfectly.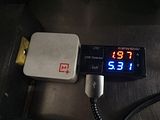 Data connectivity is once again as solid as the phone you connect it to, my HTC devices transferred files at 22MB/s with the cable. Still just 16" long though, I wish it was longer!



All in all, it seems BMW has a pretty solid cable lineup here. However, between the short length of all these cables and the hefty price tag on them I am thinking they are not for everyone. They are rugged though, so for those that go through cables quickly it would definitely be an option to consider since they come with the BMW 2 year parts warranty and held up well in my tests.
__________________