Discussion Starter
·
#1
·
Drove out to Pt. Mugu today to finally take some decent pics of my FANTASTIC new car!
Here are some random thoughts after about 275 miles:
The car is very solid, and rides quiet. The suspension is stiff, but I'm used to that since my daily driver is a Mitsu Evo 8. Most of my impressions will be in comparison to the Evo, which as most of you know, is universally praised as being a razor-sharp driving tool! I completely agree. Back to the M Coupe: I think it might be too stiff for some people, since it really is Evo-stiff. It's not quite as harsh as the Evo, but it is firm. I love it and wouldn't want it any other way!
The steering is quick, and requires attention. You can't just sit there and steer it with one finger for the most part. But this makes it fun to drive in the canyons. It feels a little more artificial than I would like, but just barely. I mean, it's ALMOST perfect. The Cayman S has a little bit more natural feel to it. But the M coupe steering is the best I've felt from BMW. I don't know why some reviews say it's heavy. It's not heavy at all. In fact at highway speeds, I think it could be heavier. But it's just right most of the time. It's very easy to get a feel for it.
The engine is fantastic! It's very smooth. 1st and 2nd gear wind up very quickly... I guess the car is geared for quick acceleration. :thumbup: I haven't gone over 5000rpm yet but I can tell it will be a quick car. The best part of it is the "little growl" from the exhaust that begins above 3000 rpm. I say "little" because it sounds like a little cheetah or something.. not a big snarling beast of a car. hehe. It does sound like a mean little thing though! It's really charming and I like it.
The clutch was VERY annoying the first few days, due to the clutch delay valve. I've gotten used to it... but I'm still planning on replacing it with a unit from Zeckhausen racing. Also, the feel of the clutch seems to "lighten" a bit the closer it gets to the floor (resistance is not progressive) The clutch is not heavy at all though, as some reviews have said.
The brakes are not as progressive as I'd like either, but like the clutch, I'm also getting used to them. The pedal seems to travel a bit with nothing happening, then they suddenly bite hard. I've adjusted my braking style. The brakes are REALLY GOOD... they stop hard! Very nice.
I don't have any issues with the stock Continental tires, but I haven't driven it that hard yet! I think an alignment is in order however. The rear end seems to dance a bit over bumps on the freeway... reminds me of my C5 Z06 Vette in that regard. Maxing out the camber on the Vette helped that.
I can tell this car is going to be very fun to drive... it already is, even though I'm not pushing it at all!
The Nav system and Bluetooth are great!!! It integrated my phonebook without me doing anything, from my Motorola E815/Verizon. Calls ring thru the stereo speakers and the mic is on the steering column. It's awesome to have this convenience. The Nav also has points of interest/restaurants/banks/gas stations.... it works great. I'm also pleased with the stereo that comes with the Premium package. Is it perfect? No. But it's probably the best I've ever had in a car. I have it on "concert hall" setting... I wish there were a few more options besides programming in your own DSP settings. I'll have to search bimmerfest for the best DSP settings. All the gadgets on this car are wonderful. I haven't had a car with gadgets in a while... and have never enjoyed nav or bluetooth integrated. It's AWESOME!!!
Oh and yes, it gets looks. Mainly from guys, especially car guys (the ones who are driving cool cars themselves.) I think the subdued color (interlagos blue) blends in a bit, and keeps it a bit stealth.
:angel:
Here are a few more pics and there are a ton of them at the link!
Santa Monica Mountains off Potrero Road: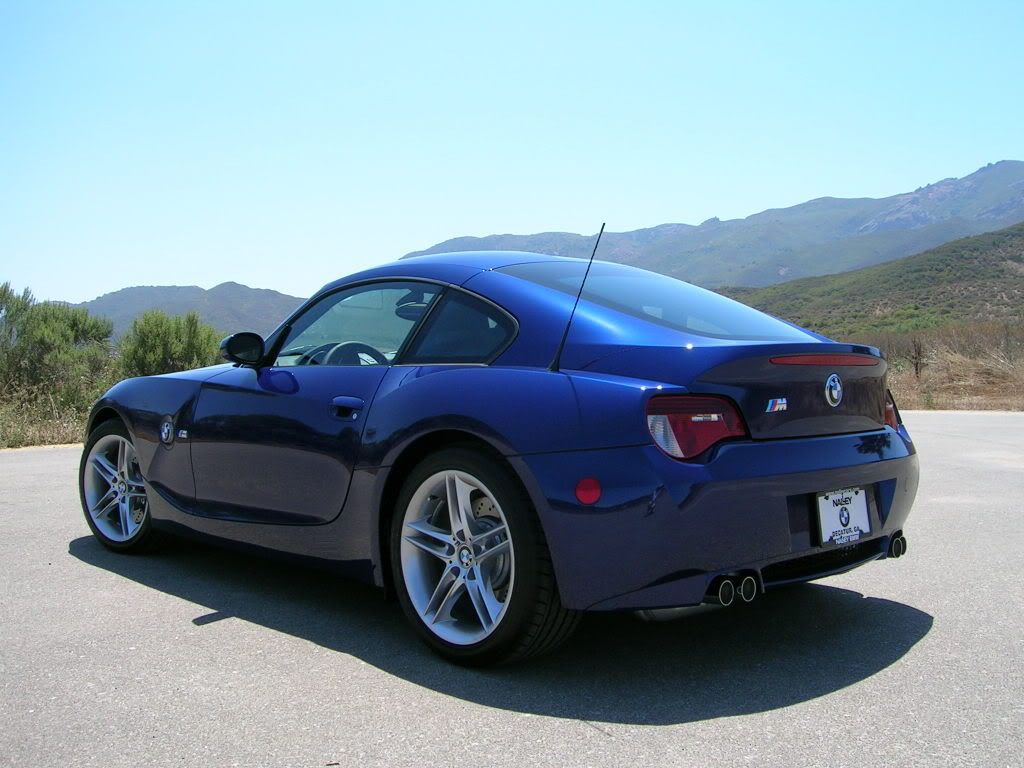 More from Pt Mugu: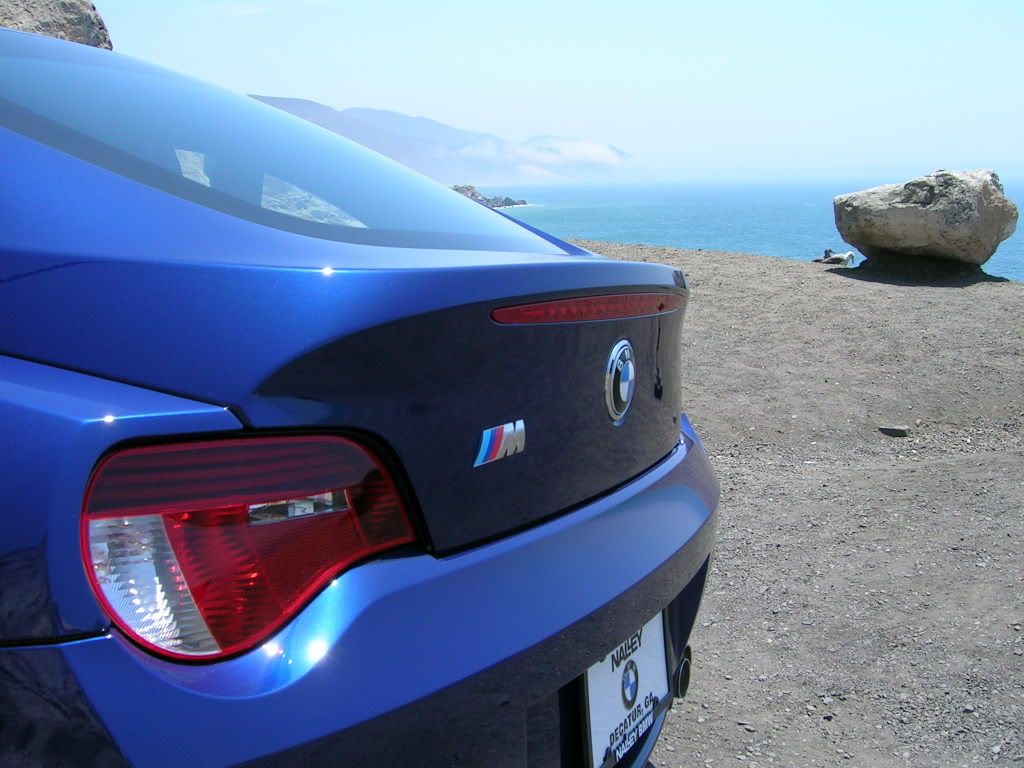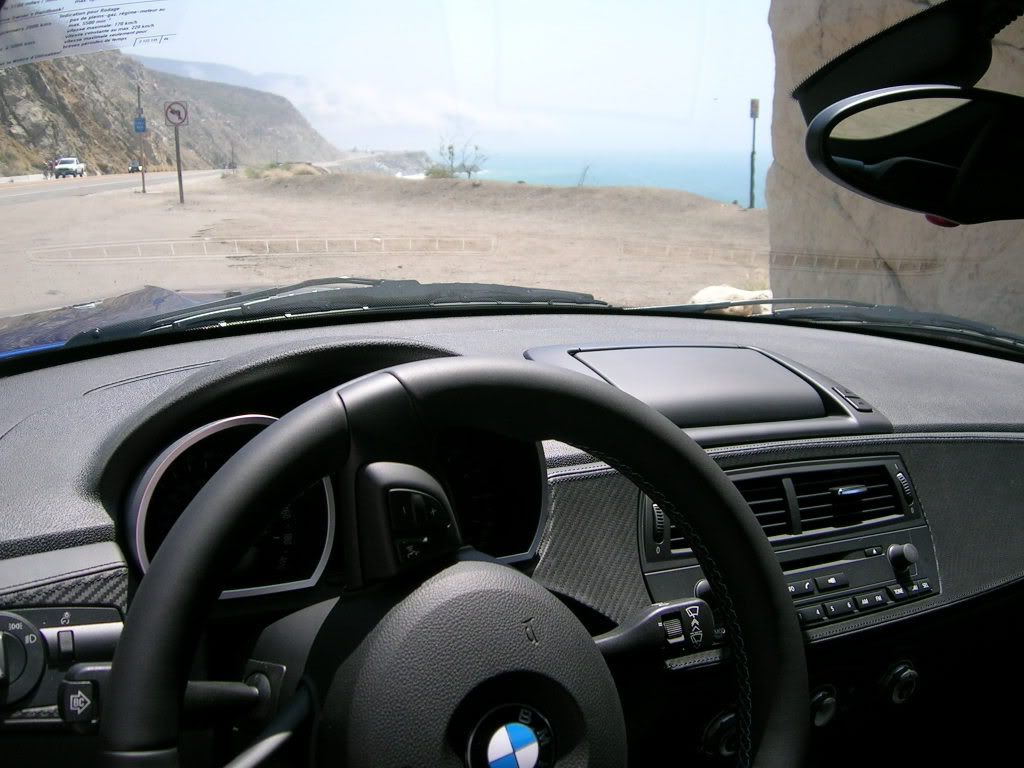 too many more pics:
http://s102.photobucket.com/albums/m83/HansDelbruck/M%20Coupe/