Well Bimmerfest....
I have swapped cars once again. Out with my '15 Yas Marina Blue M4 (...
purchased July '14
), and in with the new: My '17 Individual Nardo Grey/Silverstone M4. The options are the same on both cars for the most part, and I took the time Friday night (..
and the weekend
) to have all of the parts swapped/installed onto the new car. I also installed the M Performance alcantara steering wheel, e-brake and armrest yesterday. I was initially underwhelmed by photos having never seen the color in person (...
and only had kleaperM3's car as a visual reference
), and I worried that Nardo Grey might be a little boring for me having driven around a Yas coupe for the last 2+ years. Once I saw the color in person though, I was sold. Once my mods were installed, I was in love. Here are a few crappy photos, but I'll be doing a shoot next Friday. Better pics to come.
The initial underwhelming photos...
Once I picked up the car Friday evening, I headed over to SupremePower with both vehicles to have everything taken off of the YMB coupe and installed on the NG coupe. They were able to complete everything but my AWRON digital boost gauge and my Lightweight front lip. I can't thank Andrew and the crew enough for staying late just to help me when I was in a time crunch. Much owed to the guys! :thumbup:
After leaving SupremePower, I said my final goodbyes to Smurfette. I also had a chance to check out the ///M puddle lights that my buddy had installed. It was a nice gesture, so I rolled with it despite not asking for them. Gotta love good friends.
On Saturday I took the Nardo coupe over to EAS to have the AWRON and the LW lip installed...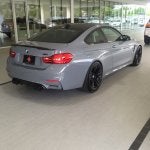 I'm now awaiting my painted front/rear reflectors and keyhole cover from IND (...
the parts will be here Monday
) and the IND OEM tri-stitch alcantara shift boot and knob to match the other alcantara M Performance alcantara interior parts that I installed.
Mod fast and furious. That's my mantra!
More pics to come.