Discussion Starter
·
#1
·
Hey guys, need your opinions on this problem.
I posted this to the redardetector.net board, however need BMW-specific opinion, plus it takes a while for posts to get approved there, so here it is:
I have 2009 BMW E61 (535xiT) with Active Cruise Control (stop and go).
I finally found time over the weekend to install my brand new BEL STIR remote radar detector, drove the car with it and RD is going off constantly with K-band alert at around 24,229 to 24,247 Khz frequency. Couple of hours later after digging around my car I figured out that it is an Active Cruise Control (ACC) feature on my car that is broadcasting in above frequency range. I did test this RD before installation by placing it on the dashboard and driving around town for a couple of days - all worked well. My RD sensor was installed in the lower bumper grill, see the pic below:
Green spot - lower grill on driver side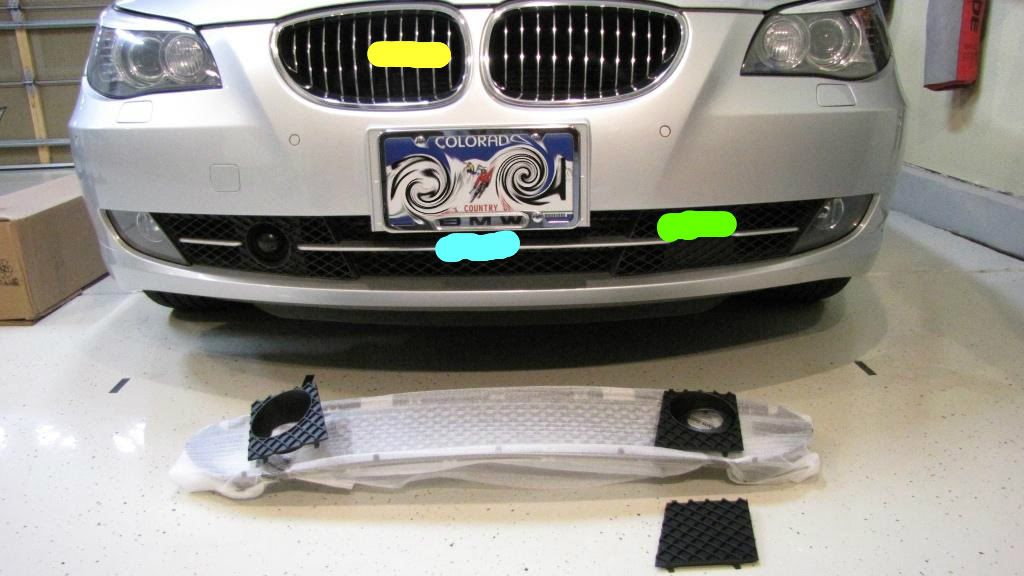 The three ACC sensors are located all around front bumper:
two behind a bumper cover either side of license plate and 3rd, visible in the picture, is in lower grill on pass side.
Looked at STIR manual - I can not segment K-band, only disable the entire band.
Am I screwed?
After spending $ on RD and 2 days installing it this RD is pretty much useless??
Turning off ACC is not really an option since the car maybe spitting warnings all the time. Besides, I used it in heavy stop and go traffic and it really works great (scary, but works)
However, if this is my only option, is it OK to disable ACC by pulling out its fuse? Will I get nagging messages about some sort of system failure?
Wouldn't it be great if RD manufacturers or dealers warn you before selling a product that doesn't work for your application? I did a lot of research before spending this much money on RD, including complaints about parking sensors interference (which I also have) from some cars, windshields etc.
My car did not come up in any search...
Any ideas? (on how to insulate RD sensor, relocate it etc)
I just do not see myself driving with RD on my windshield...
Thanks