Over the past couple weeks, my wife and I have been debating between doing ED either this year or next year. Well, after visiting one of the local dealerships today and settling on a fantastic offer, I am happy to report that we will be doing ED this fall.
The details of our build are in my signature below, but I'll restate them here:
2015 BMW 435i Gran Coupe
M Sport Line
Exteror:
Estoril Blue Metallic
Interior: Black Dakota - Aluminum Hex Trim - Blue Matte Trim Finishers
Packages: Cold Weather, Lighting, Premium, and Tech Packages
Misc: HK Sound, 18" 400M Wheels w/ All Seasons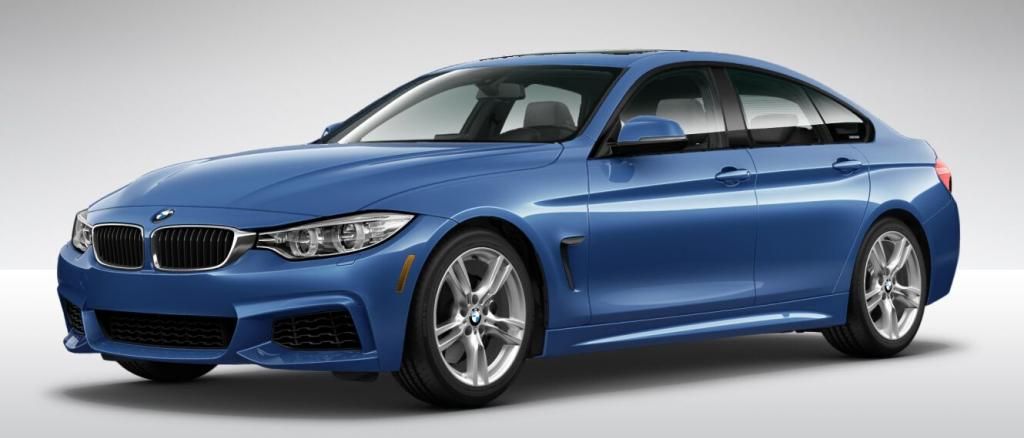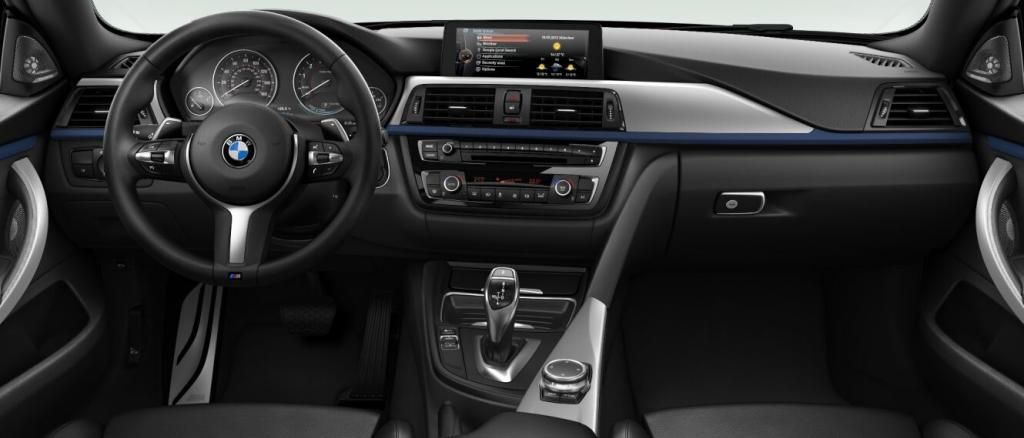 Cold weather package was a must living in an area with 4 seasons and being married to a wife who always sets the temp on her side of the car to 80+. Lighting package was an impulse buy - damn those lights look freakin awesome (auto high beams are nice too). Premium package just made sense because I wanted leather seats, comfort access, and am already a Sirius/XM subscriber. HUD alone was enough to sell me on the tech package. I had loaner a few visits ago and when I realized a whole bunch of other useful stuff was displayed on the HUD besides speed, that was the moment I was sold. Well, I guess that and also being an engineer in the aviation industry where I'm much more accustomed to using such a display.
For the most part, the only packages I did not get were the driver assistant packages and the dynamic handling package. If active blind spot detection was an individual option, I probably would have ordered it - otherwise really wasn't interested in a bunch of cameras and dimples around the bumpers.
DHP and Msport brakes almost made the cut, but I see them as longer term maintenance worries. Msport pads will obviously cost more than regular pads and the occasional nuisance stability control faults caused by the A/S on my 5er were enough to actively steer me away from the extra complexities of the DHP (pun intended). Also, the roads on my daily commute around St. Louis are pretty good so I'm not too worried about having the stiffer Msport suspension.
I went with the 400M wheels with all seasons because I'm not a big fan of RFTs, and don't want to deal with the hassle of mounting new tires and selling the RFTs. Instead I'll just wear these out in a few years and then mount winter tires on the 400Ms. Don't yet know exactly what I'll buy for my summer wheels but I like the 433s that come on the current gen M6. If I went that route, I'd be looking for a set of 19" replicas as I'm sure the OEM wheels alone are in excess of $4k.
Going in on Monday to finalize the paper work and get things rolling on the build. Should end up having an early October delivery window. May try and plan it so that we pick up the car on my birthday which is October 7th - I'll be turning the big 3-1.
Pre-Delivery Updates
July 7, 2014

Completed the initial paperwork today, put down a $500 deposit, and filled out our pre-reservation request order form. Our dates in order of priority are Sept 29, Oct 6, and Oct 7. Should hear back by the end of the week with a production number and ED date.

July 15, 2014

Just received a call that we will be picking up at the Welt on September 29th at 10:50 AM!

July 16, 2014

Signed purchase order & terms, power of attorney, and winter driving conditions notification. Received production number - status is 105.​
September 10, 2014

Vehicle production started - scheduled to finish production on September 18.

Interesting note about the VIN. Digits 4-7 are typically the vehicle's model code which for a 2015 435i GC should be 4B13 per the order guide. However, mine as well as many other new cars I've found online are 4B1C. Also, looks like these are manufactured in Dingolfing.

September 20, 2014

Vehicle production completed per BMWUSA.
​
ED Trip Debrief
We started planning our ED trip shortly after we received confirmation of our pickup date (Sept 29th) towards the end of July. Neither my wife of I could be away from work very long so we planned the trip to be 1 week long - leaving Sat the 27th and returning a week later on Oct 4th. We chose the 29th so that we could experience a real, Bavarian Oktoberfest by being in tents filled with great music, crazy Germans, and 1000s of liters of real beer being consumed simultaneously. I'll tell you the "Oktoberfest" we have here in the states is no comparison ***8211; it's like comparing a prius to an M3.
Our high-level itinerary ended up being as follows:
Munich, Germany: Arrive Sept 28th and depart Sept 30th
Sept 28th: Get to hotel and explore downtown Munich (away from Oktoberfest festival)
Sept 29th: Take delivery in the morning then meet up with friends and head to Oktoberfest
Sept 30th: BMW Museum in the morning, drive to Neuschwanstein castle, drive to Oetz​
Oetz, Austria: Arrive Sept 30th and depart Oct 1st
Sept 30th: Dinner and relax at Nature resort
Oct 1st: Depart Oetz heading through Switzerland to Lake Como, Italy.
(Originally planned drive via Stelvio, but weather did not cooperate that morning, unfortunately)​
Lenno, Italy (Lake Como): Arrive Oct 1st and depart Oct 2nd
Oct 1st: Arrive in Lenno, explore town, discover tasty Italian wine priced cheaper than Franzia
Oct 2nd: Take Ferry into Bellagio, explore town, eat lunch, return to Lenno and drive to Verona​
Verona, Italy: Arrive Oct 2nd and depart Oct 3rd
Oct 2nd: Arrive at Villa Quaranta Wellness Resort, explore, enjoy private wine tasting, eat dinner, relax in hydrotherapy pool
Oct 3rd: Leave resort and drive to Innsbruck via San Leonardo pass. Visit Swarovski museum​
Munich, Germany: Arrive Oct 3rd and depart for home Oct 4th
Oct 3rd: Arrive at NH Munich near airport, get dinner, re-pack luggage, get rest
Oct 4th: Wash car at nearby Agip, drop off car at Loginout, fly home​
Re-Delivery Timeline

October 7, 2014 [Drop off +3 days]

Booked on the Elektra. Voyage Number CX441-ELX

October 12, 2014 [Drop off +8 days]

Received at Terminal in Bremerhaven

October 14, 2014 [Drop off +10 days]

Loaded on Vessel

October 27, 2014 [Drop off +23 days]

Discharged at NY (NJ)

October 28, 2014 [Drop off +24 days]

Customs Cleared: Vehicle enters VPC per BMWUSA tracking status indicating "Final Touches"

October 31, 2014 [Drop off +27 days]

Released to carrier: My CA called to let me know the car has been released to the carrier and should arrive early next week!

November 7, 2014 [Drop off +34 days]

Car Arrived at dealer: Picking up later today!

​