Remove Repair Replace Rear Door Lock Actuator DIY
with photos
DIY below is on a 4Door E36 DIY without removing the rear window or window track.
Applicable to 4 Door and 2 Door BMW's.
Tools Necessary:
T-20 Torx Wrench
T-27 Torx Wrench
Flathead Screwdriver
Pliers
1. Remove door panel.
2. Peel back vapor barrier.
3. Remove inside door handle (Use T-20 for this) Pull back and out to remove handle assembly. Unclip the black rod holder to the left with a set of pliers. Use the pliers behind the door and squeeze clip while pulling out on rod.
4. Unscrew plunger hanger. Use a flathead screw driver and pliers for this. Its easier to apply pressure under the screw while twisting. Since its plastic, you can easily push it back in by accident.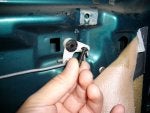 5. Remove Locking assembly by removing 3 torx screws using a T-27 Torx wrench.
7. Once the lock assembly is loose you can drop in down a little and see where the actuator sits. Include on this picture is the inside view of the actuator on the lock assembly. See picture.