Discussion Starter
·
#1
·
Forgeline Forged Alloy Wheels has named UUC Motorwerks as their exclusive dealer for BMW-fitment wheels.
UUC is proud to have "forged" this relationship as the Forgeline wheel products represent the pinnacle of quality wheel design and manufacturing. Forgeline's dedication to technical superiority, craftmanship, and artistic design is perfectly aligned with UUC's similar dedication to providing only the "ultimate performance components" for the "ultimate driving machine".
The secret to combining light weight and strength is in the "press forging" process where the wheel center is actually pressed in the final shape, utilizing the aligned metal crystalline structure to improve strength at the molecular level. This is in marked contrast to "billet forged" where the majority of the forging benefit is lost due to the machining process.
All of Forgeline's wheel offerings are truly "custom" - every aspect of each order is tailored to the enthusiast's specific needs. Every factor of the design can be adjusted, including offset, diameter (16"-20"), width (7"-13" in half-inch increments), center color (including genuine BMW color codes and polished finish), lip finish (polished or chrome), and even fastener material (titanium for light weight) are all customizable.
Please visit the UUC website for all Forgeline styles and pricing: http://www.uucmotorwerks.com/forgeline/
A few of the popular fitments for include these styles:
WC3
in 18"
VR3P
in 19" and 20" sizes weighing approximately 26lbs: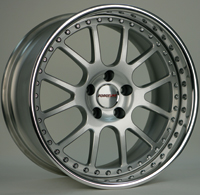 SP3P
in 19" and 20" sizes: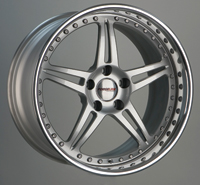 SO3P
in 19" and 20" sizes: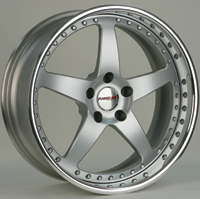 SX3
and super-lightweight
SX3-R
in 18":