Discussion Starter
·
#1
·
Hello Folks -
So, Frankie literally went to Hollywood. I had to go to Los Angeles on a short business trip and decided to take a chance and drive Frankie down.
She drove down well - average cruise set speed of around 80 MPH. These cars are truly great freeway cruisers. Its pretty much what they were built for.
Anyway... got into LA and OAT was around 80 - 94 Degrees. Car ran fine, no over heating, temperatures never went up. I am wondering if I should bother changing the clutch, fan and water pump - even though they sat for a year ..
Radio / Stereo worked most of the time, except for the occasional high pitched whine every now and then when it was on radio. DSP is still dead as a door knob.
One annoying thing is the A/C kept stopping or at least stopped blowing cold air. Try sitting in 80 - 90 degree heat in traffic with windows that can't go down (I had the windows done). Gaah! I don't know if it is out of refrigerant or the compressor is bad - will post more about this.
So.... so far so good. Car has now officially broken the 1,000 mile mark with me. She does a weird idle thing while driving, more to come on this also.
I made my way back to the Bay Area today. The whole trip was actually quite monumental. A lot of major milestones with the car.
The Radio worked then entire trip - the entire trip! It never once cut out, but it did do that silly high pitched whine. A radio shop said it was very likely the Amp going bad... time to go Amp shopping.
As I already mentioned, the car crossed over the 1K mark with me AND.... (drum roll), it crossed over the 200K mile mark on the way back. This is the first car that I have ever owned with over 200K showing on the odometer - and it still runs like a banshee. I have decided I will be re-installing the DINAN chips - one for engine, one for transmission. I got them with the car. The car also has a shopping bag of so many parts on the way like cooling parts, brakes, etc.
Funny thing on the trip - actually it kinda upset me - Myself and a number of other drivers were in the fast lane wondering why the heck we were doing 60 MPH or less and who was the slow poke in front who was holding us up. To my utter astonishment - IT WAS AN IMOLA RED 740i SPORT, with a DINAN badge. I came up alongside the guy and instead of my usual glare for going slow in the fast lane, I honked, gave him a thumbs up as the car was gorgeous. What do you think happened?!?! The man totally ignored me. Oh well....
On a happier note, Frankie got a very good cleaning while in LA, the car wash place was incredibly thorough. Frankie also stopped by the Pasadena Rose Bowl in preparation for the upcoming Bimmerfest which I hope some of you will attend. Here is Frankie giving you all a Big German Hallo !!!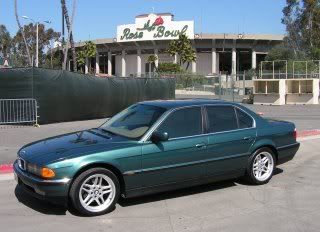 Her Big 200K Moment (Engine only has 90K since rebuild)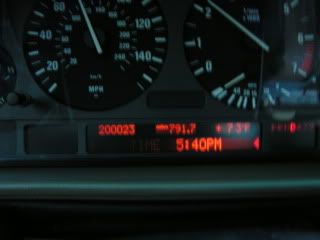 Post Car Wash pics - The new 275/ 40 rears look much better.