This set of a real BMW ski racks came with my e39 and I realized I'm about as likely to go skiing as stephen hawking. Therefore it'd be smart to unload these onto someone who is more likely to use them. They have typical minor scratches but other than that they look great. All screws/clips seem to be intact and looks like they are ready to be installed. I am asking $175 shipped within the US.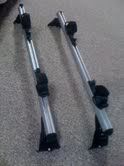 Hmm I don't know why I can't get the pictures to go any larger but if you email me at
[email protected]
I can send bigger pictures.