Discussion Starter
•
#1
•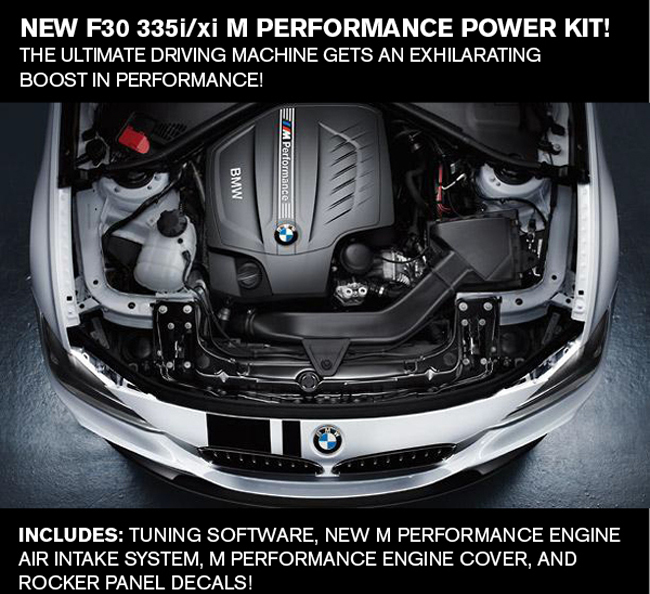 The Ultimate Driving Machine gets an exhilarating boost in performance thanks to the new M Performance Power Kit. The BMW M Performance Power Kit features engine tuning software and a new M Performance Engine Air Intake system. In addition, a replacement M Performance Engine Cover and Rocker Panel Decals provide the mark of distinction this retrofit deserves.
•Horsepower increased to 320hp (20hp gain).
•Torque is increased to 332 lb-ft (automatic transmission) and 317 lb-ft (manual transmission)
•Faster acceleration: 0.2 seconds faster than the standard 335i model from 0 mph to 60 mph. 0.5 seconds faster than the standard 335i model from 50 mph to 75 mph.
•More dynamic accelerator pedal calibration in Sport Mode.
•"Exhaust burble" sound during engine overrun conditions.
•Sport Display now shows increased power figures to reflect increased performance.
•Adheres to rigorous BMW Group test standards. Vehicles retain the original emission certification. Vehicles maintain the original fuel efficiency ratings.
•The vehicle's original BMW Limited Warranty is not affected. 4 Year / 50K miles when purchased with the new vehicle o 2 years / unlimited miles or the balance of the new vehicle warranty, whichever is greater.
On special in our M Performance Catalog HERE!!!
:thumbup:
*Must include vin with order.
**Vehicles up to 11/2012 include a new DME from Germany, please allow up to a couple weeks for shipment.
***Installation time is approx 1.75 hrs for cars up to 11/2012. Installation time is approx 0.5 hours for cars built from 11/2012 and on. (Install time does not include time spent programming/coding the vehicle).
****Price includes Free Ground Shipping! (US only)