Lately, the batteries that come with the BMW's I purchase are not that good. The one in my '97 318ti failed in a little over two years. BMW warranty on batteries is two years.
The battery in my '01 M coupe never had any reserve capacity. Leave something on for a short time and you come back to a car that won't start.
There is an article in the May '02 BMWCCA Roundel discussing the same problems. The batteries are made by DBMC of Winston-Salem according to the Roundel article.
http://www.ibsa.com/www_2001/content/products/ratings.asp
http://www.batterycouncil.org/
In my ti, I replaced the battery with an Interstate
MTP-91. I have also used the same battery in a friends car.
http://www.interstatebatteries.com/
As one less thing to worry about and for more reserve capacity, I decided to replace my less then one year old battery with the MTP-91 Interstate one. The Interstate MTP-91 is the same physical size as the BMW group 48 one in the coupe. The Interstate one has better ratings. It also has a 6 year pro rated warranty. It cost me $92.00 and weighs 9 pounds less
than the BMW one (36 versus 45). It comes with a vent kit that interfaces to a smaller hose like the BMW uses. The BMW hose is too short. I replaced the 10 inch BMW hose with a 12 inch one. I also had to remove, using a razor knife, a small area of the foam spacer piece to accommodate the hose relocation. The following pics show the before and after.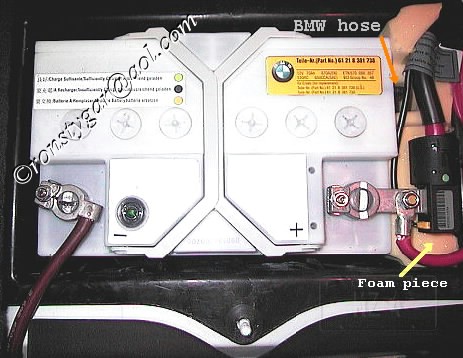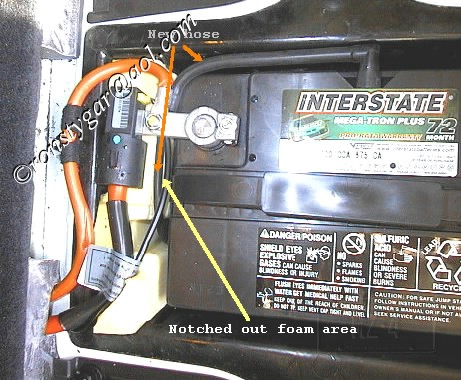 When disconnecting a battery, remove the ground lead first. That way when removing the plus lead, and your wrench goes to body ground, no sparks.
When reconnecting, install the plus lead first for the same reason.