·
Instructor of the Stig™
Discussion Starter
•
#1
•
Decades of tuning experience has delivered highly effective, reliable, consistent performance tuning that makes the most of every BMW. In order to build on this success, Turner dedicated months of dyno testing, tuning, and re-testing on an in-house 2015 F32 435i xDrive to develop a tune that is compatible with a bone-stock, lightly modified or FBO car.
Turner Motorsport N55 Performance Software


Several levels of performance to accommodate both stock and modified vehicles:
Stage 1 - Great for stock cars, or those with intake and/or exhaust upgrades such as a cat-back exhaust. Turner experienced peak gains of +96 horsepower, 127 ft/lbs torque with an intake and cat-back exhaust
Stage 2 - For cars configured similarly to Stage 1, but with additional resistance to heat with the addition of an intercooler. Similar max gains to Stage 1, with improved top-end power output. More importantly, with an intercooler intake temps remain lower for longer. Turner's testing showed peak gains of +103 horspower and 139 ft/lbs of torque!
All stages are designed to accommodate either 91 or 93 octane fuel - your car will compensate for lower octane, and will make more power with 93. If at any point you purchase more upgrades and need to change your tune we can offer upgraded tunes to existing customers for a nominal charge. N55 tunes all also remove the factory speed limiter.
Turner Motorsport N55 Performance Software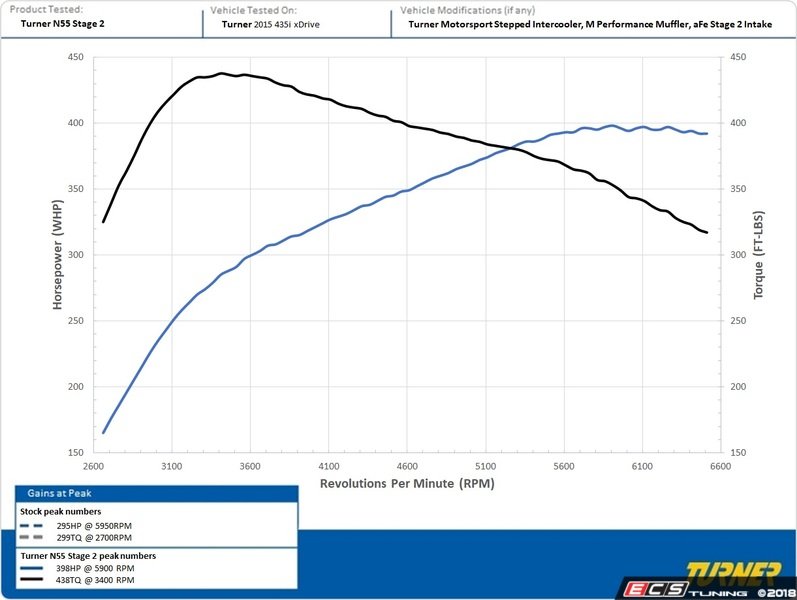 Regardless of stage, Turner's software offers excellent driveability with consistent performance for daily drivers, street enthusiasts, and competition drivers alike. Boost come on smooth and strong - not peaky - which makes for a fantastic driving experience. Throttle modulation, response, and turbo lag are reduced: hit the go pedal and the car responds rapidly.
Designed with street drivers in mind, Turner's software also successfully set readiness on their shop development car - meaning the car was ready for emissions testing. Results may vary, especially depending on other modifications present.
Turner's software installs easily, with no wiring or other physical modifications, and is fully reversible. You don't even need to open your hood. Tune it yourself - at home. We will mail you easy instructions and a Turner Flash DIY tuning tool that will allow you to plug your car into your Windows laptop to tune your car. You submit your stock file, and a tuned file is emailed back to you - no downtime.
Turner Motorsport N55 Performance Software