Sister gets new 2018 M3 and misses the "boom, boom" (her words) of her old 2015 335i with SWS-8 underseat subs
https://www.bimmerfest.com/forums/showthread.php?t=815304
.
Unfortunately, the SWS-8 were gone with the car but not the Arc Audio amps. I had a new set of Eton B195 Neo in my garage planned for an F48 X1 that I never got, and a new add-a-sub harness/LOC-XD kit for HK systems with signal sense remote turn on that really works with the MOST OEM amp.
This was really easy:
KS125.4 amp prewired for power/ground remote and bridged 2ch mode (250W per channel):
Ordered CD Changer trunk trim P/N 51487246299 so KS125.4 amp can be installed on top of the OEM amp, and easily accessed for gain adjustments from top:
Installed add-a-sub harness with the LOC-XD on trim door for gain adjustment access (if needed):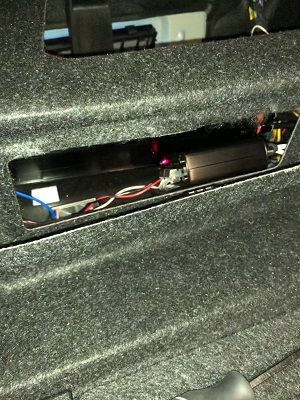 Tilt seats (no need to unplug OEM harnesses) back and replace OEM woofers with the Eton Neo woofers: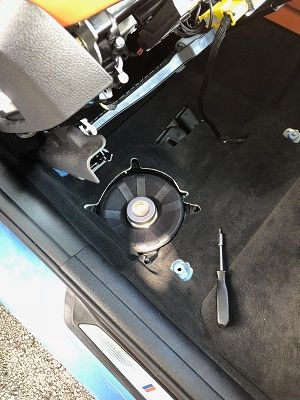 Notes:
1. OEM woofers were tested with the KS125.4 before the swap. Sound is louder and deeper, obviously. The problem is that this is too much power (gain at minimum) even at 7ohms, and BMW seems to have cheapen-out in the quality of the HK woofers from MY2015 to now. Much shallower that they used to be so now they flap and complain if bass is increased just a notch at the iDrive screen. Loud but not accurate at this power level. Definitely will sound better with a less than 80W per channel amp. Used to sound great with more than 100W per channel, but no more.
2. Then the Eton Neo. The Neo are Eton's new line of PnP woofers for BMW with shallow enclosures like in the 2-, 3-Series and X1. Unplug OEM woofer, plug New woofer in. This is also a 4ohms woofer rated for up to 200W rms per channel. No complains, no floppyness, just deep and accurate midbass at any volume with this KS125.4. No need for the Bass Boost adjustment of the KS, no need of anything over minimum gain on both the KS or the LOC-XD LOC. Just straight inputs from the OEM amp with no modifications at the outputs. Bass level at iDrive can be increased or decreased by taste, but just left in center will produce more midbass than the OEM amp at any volume.
The Neo are not subwoofers as the SWS-8, they do not go as deep as the SWS-8. But the Neo do not lack the solid midbass that the SWS-8 do. And still the go quite deep, loud and clean.
Sister is again happy. :thumbup: