....I have to ask if anyone knows if the outer glass is removable in order to clean the inner lense and glass.... I've tried once but it seemed impossible.... Thanks
Yes it is. All you need is a heat gun and patience.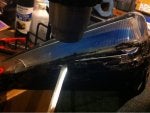 I did mine to pain off the chrome, glued them back with black silicone adhesive/sealant and never looked back.
Again, before
After
You'll have fun cleaning the old glue, don't forget gloves, its messy and sticks to anything and everything.