Discussion Starter
·
#1
·
Greetings everyone,
Last Friday some of my colleagues and I had the great pleasure and privilege of touring RDSport's new facility in Southern California. Despite the fact that the facility is still very much under construction, and not even a quarter of the items are moved in, the staff there was very kind and welcoming, and took time out of their week's end wrap-up to show us around.
We were surprised and very grateful to have one on one time with Federico Pavoncelli, BMW tuning legend and founder of Racing Dynamics, SpA and RDSport, Inc. Federico is lauded as one of the greats in BMW tuning, and to hear the entire
story of Racing Dynamics, RDSport, and MOMO
was simply incredible!
This thread is not intended to be a play-by-play history - if you wish to read the unabridged version, I strongly recommend you read This thread.
I must admit that out of 3 JleviSW employees present at the meeting, none of us had even the slightest idea what really happened with RDSport and Racing Dynamics, and we certainly did not know Federico's history with MOMO (a respected global brand headquartered in Italy). It's an absolutely amazing (and somewhat heartbreaking) story of a college entrepreneur and his love for BMW's, and truthfully, you won't read a better or more interesting story unless you work in hollywood reviewing scripts.
For the purpose of this article, I will throw in the minimum amount of information for it to make sense, but again - read the entire history. You won't regret it.
So, off we go!
Before we begin, though, a quick disclaimer:

My apologies for low quality photos. They were shot on a Nikon D5000 with no external lighting and no tripod. Flash was used only where absolutely necessary. Warehouses are dark places and therefore many of the images are blurry or dark. To preserve the journalistic nature of the post, I've done absolutely no editing or processing of the images beyond resizing and adding a watermark logo. As always, you see what I see, and I tell it like it is.
Now that that is over with...
Here is the Racing Dynamics Sign - not even on the building yet, as they've been in the new location for about a week. Truthfully, it may never go up. Racing Dynamics is the global brand and original company. Due to a US company that bought the trademark and used it to sell knock-offs, Racing Dynamics brands their parts RDSport in the US and Canada.
(Just a note, since the writing of the post linked above, negotiations to buy back the trademark have fizzled; the US importer is just asking way too much money).
Fun fact:
The Racing Dynamics logo features text that Federico literally stylized himself with an exacto knife, surrounding a stylized version of his family crest. Very cool!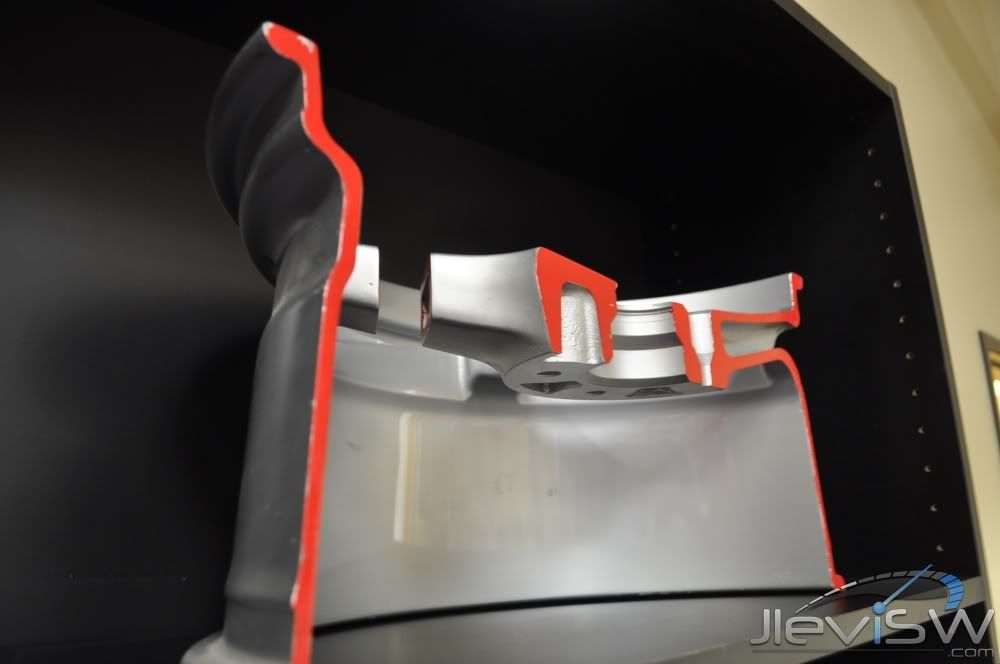 This is the wheel that put RDSport on the map. Not only is it the first 5 spoke wheel ever put on a BMW (and one that inspired many other tuners and BMW themselves to look into spoke wheels)… it is also the first ever hollow-spoke magnesium wheel. This was a legend in the BMW tuning world and completely changed the game when it was unveiled in 1987 at the IAA show in Frankfurt.
Federico Pavoncelli, designer of the famed wheel, explains his design process and the unique hollow-spoke magnesium alloy construction of the wheel.
Just a customer's car with RDSport brakes - this customer requested special black brakes with no logo (standard is blue w/ white logo), because in AutoX he loses points for every aftermarket upgrade they notice!
A stroker motor for an E92 M3 being built in the Engine Room. This is the first time RDSport USA has been able to have a dedicated engine room in the USA (previously their US facility did not have the same manufacturing and installation capabilities as their Milano facility)
A bored out motor. RDSport/Racing Dynamics is extremely cautious about how far their motors get bored, to preserve structural integrity. They differ from other tuners in this regard.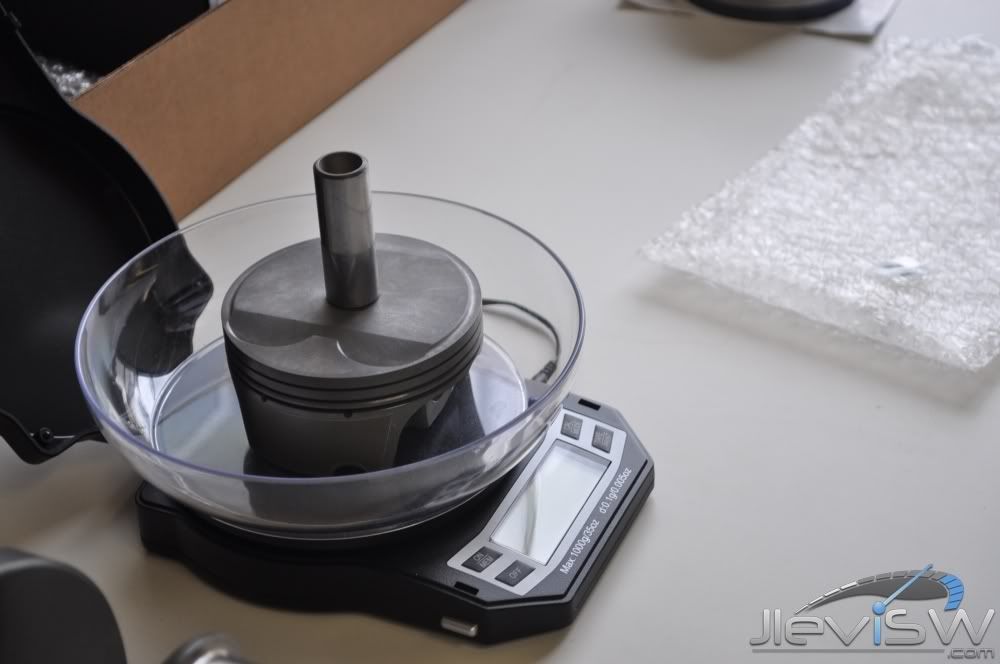 Piston head on a diet.
Each component is meticulously measured to make sure it is 100% within spec. One employee confided, when Federico stepped away, that his near-obsessive attention the detail and fastidious work ethic is the secret behind RDSport's success.
Beauty shot to illustrate my point. This isn't a display piece; they actually clean every component to this level before re-assembling the motor.
Here's how. No, they don't polish them by hand!
We pulled their engineer away from the workbench to get you this exclusive in-progress shot!
Fun fact:
Fisker offers RDSport's RS5.6 V10 Stroker Motor as an option on their own Latigo CS Coach-Built Supercar. Very cool.
Just a cool shot of a build in progress
All of the parts are shelved after cleaning, one rack per engine to ensure what comes off goes back on.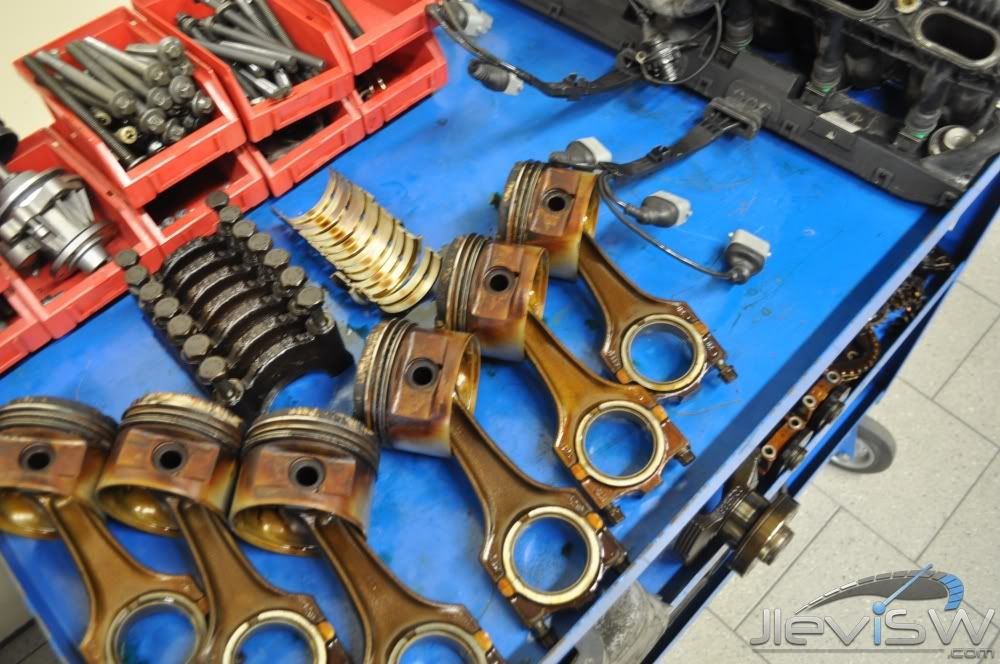 Pistons awaiting cleaning
More parts from this same engine build
Headers
Clutch
Cams
To be continued....