Evo3 ULTIMATE SHIFTER AND SHIFT KNOB PACKAGES * SUPER COMBO!
VALID THROUGH SEPTEMBER 17, 2008. INTERNET ORDERS ONLY!
Cannot be combined with any other offers, discounts, or promotions. Promotion available only through UUC directly, not independent dealers. Not retroactive nor extendable beyond end date.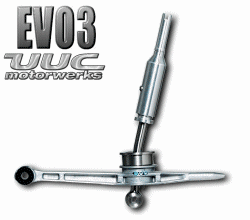 Buy any Evo3 Ultimate shifter and get 50% off any UUC shift knob!
SHIPPING COSTS: our website will automatically calculate domestic USA shipping costs for you. Simply "ADD TO CART" the items you want, and a "determine sales tax and shipping cost" link will appear on the right side of the web page. Click that, enter your zip code and state, and all UPS Ground, 3-day, 2-day, and Overnight quotes will be displayed.​

Please note:
You must order the shift knob you want from this section of our website:
http://www.nexternal.com/uuc/Category211

Also, please note: you must ACTIVATE THIS COUPON LINK FOR THE 50% DISCOUNT:
http://www.nexternal.com/uuc/?Coupon=SSK50OFFKNOB