(For all of us doing timing chain guide jobs.)
This is why (from
Jalopnik
):
From the article:
Here's the background: the previous Audi S4, which came out in 1999, used a timing belt rather than a timing chain. This annoyed the hell out of everyone, because the belt had to be changed every few years, and the only way you can do this job, or any job in a 1990s Audi, is you have to remove the front end, and the engine, and all the glass, and then you have to do a little jig on the service drive that involves a socket wrench and some lederhosen. For this, you may bill 31 hours.

So what Audi did on the V8-powered S4 model, which came out in 2004, was obvious: they ditched the stupid belt for a chain, like most other automakers. And since the chain was now designed to last the life of the car, Audi decided to stick it waaaay in the back of the engine, up against the firewall. Apparently the theory was that the chain would be so robust, and strong, and dependable, that it would never have to be serviced. You can probably guess what happened next.

Yes, that's right: it had to be serviced.

You see, as it turns out, the chain itself didn't have any problems with dependability. But Audi, being Audi, decided to use substandard materials for the chain tensioners, and the cam adjusters, which are two related ***8211; and highly important ***8211; components that keep the chain turning around and around and around every time you drive the car. The result is that these parts eventually fail, requiring the replacement of virtually everything you see in this amazing image of an Audi S4 engine worryingly sitting outside an Audi S4: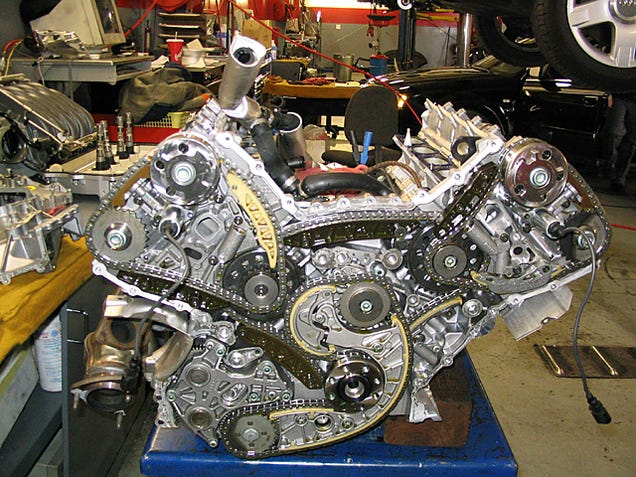 Now, I know what you're thinking: this doesn't seem so bad! Hoist the engine out of the car, replace a few tensioners, and a few adjusters, and maybe a timing chain or two. And then you're good for another eight years!

Well, here's the thing: there's no such thing as "not so bad" in the world of used Audi repairs. According to this excellent summary of the problem over on the Audi forums, an Audi dealer charges around eight grand to fix this issue. You want to do it yourself? No problem. The parts alone are three grand, and then you have to consider the hours you'll spend under the car, covered in grease, wondering why the hell Audi designed this vehicle so that it could only be fixed by a creature the size of a cicada. All for a car that's only worth about fifteen grand, according to average pricing on AutoTrader.com.

​
That's right. Not only do you have to take the engine completely out of the car to replace the timing chain guides, once you do, you are faced with an engine that looks like it was created by a mad scientist--or maybe a committee of them.